The very atmosphere of firearms anywhere and everywhere restrains evil interference – they deserve a place of honor with all that is good.
–George Washington, Gun Owner
A new promotional advertisement from online gun and ammunition dealer USA Ammo will likely have President Obama's base up in arms (not the ones protected by the 2nd Amendment, of course). In the picture version of the advertisement (accompanying video is available below) the company depicts Obama along with 20th century tyrants like Hitler, Stalin and Mao, whose gun control policies left millions defenseless against their governments, subsequently leading to the deaths of some 60 million people worldwide.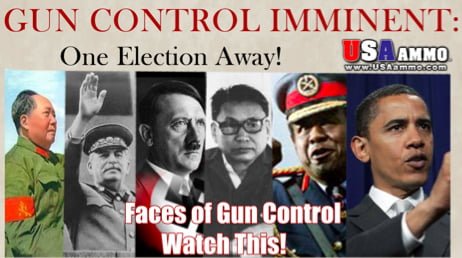 Via CBS Local:
USAAmmo states that "tyranny is knocking down the doors of American cities daily" and that Obama, Attorney General Eric Holder and other gun control advocates "are secretly conspiring American Citizens of the right to bear arms."

Trace Williams, director of operations for USAAmmo, defended the ad that was emailed Monday. He told CBS Washington that "Obama and his various czars are infringing on the rights of Americans to own guns."

"He's anti-gun and he's obviously a socialist cramming health care down American's throats," Williams said. "That is exactly how those people in that ad rose to power."

Williams told CBS Washington that he doesn't regret comparing Obama to those dictators and that his company has received "unbelievable support" since the ad was put out.

"Just look at history. Obama's socialist agenda is geared toward depriving American citizens of their God-given rights." He also added that sales have gone "through the roof."
Via The Daily Sheeple: