This article was contributed by Portfolio Wealth Global.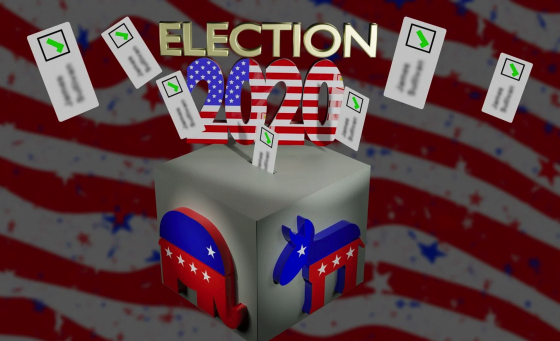 Today, America is voting. One year ago, at this time, President Trump was pretty confident that he'd win a 2nd term. After all, tax cuts and major regulatory hurdles were removed. Through a combination of natural trends that were in motion and his administration's policies, America was booming, economically speaking and the improvement was felt by enough Americans to give Trump a landslide victory.
Covid-19 opened the door for Democrats to re-enter the presidential race, so to speak; it forced Mr. Trump to manage a healthcare crisis, which is obviously not what he really wants to do, as a business-oriented individual. Many millions who weren't raving Trump fans, but were quite happy with the way their careers and finances were going, were laid-off and now had an excuse to change their tune on the Republican Party.
It's pretty safe to say that President Trump hates this virus, from a personal perspective. He was riding on the gravy train until it came along and forever changed many aspects of our lives, at least for the next 5-10 years.
The markets have changed as well; the puck has moved towards fiscal stimulus and away from a monetary one. Tens of millions of Millennials have now become actively involved in stocks.
If, up until now, any word uttered from the mouths of Bernanke, Yellen or Powell, caused trillions of dollars to change hands, the next president will have an impact even greater than that. There are new top-trending fund managers; less than 1% of the population has truly realized just how different of a world we are entering.
The markets are now following what Congress does more than it cares for what the Federal Reserve can do. As a child, if you'd gone to Six Flags and went on the same ride a few times, even if it was the best one, the thrill factor had a diminishing effect. Even if there were no lines and you could do it time and again, most kids wouldn't.
They'd much rather try a brand-new ride, a rollercoaster that they've never seen before – one with new colors and a fresh design in another part of the park.
Fiscal stimulus measures like direct deposits, checks to the bank account, and other socio-economic policies, which we will see in the years ahead, will be a critical catalyst for markets. They will be much broader in scope than Medicare, Medicaid, or Social Security, and include demographics much younger than retirees.
We believe the U.S. government will act in such a way that inflationary expectations will rise, while the FED will attempt to suppress rates, thus sustaining negative real rates (as we've predicted for more than a year), while leaving the nominal bond yield in the positive range.
Trump or Biden; Washington will be fully engaged in MASSIVE DEFICIT SPENDING in this decade and commodity investors will flourish.