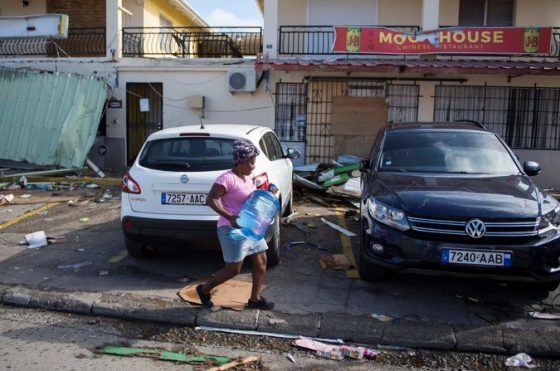 Photo Credit: (New York Times) A woman in St. Martin carries a jug full of water. 
Hurricane Irma ravaged the Caribbean islands last week and wiped entire islands off the map. Now that the food and water have been scavenged from every grocery store on St. Martin, people are resorting to violence.
The people obviously started with the grocery stores, scavenging what they needed for sustenance; water, crackers, and fruit. But according to the New York Times, by nightfall on Thursday, what had been a search for food took a more menacing turn, as groups of people (some of whom were armed), swooped in and violently took anything of value that was left. Things like electronics, appliances, and vehicles were all stolen.
The social fabric has begun to fray now that people are without the most basic of essentials: food and water. "All the food is gone now," Jacques Charbonnier, a 63-year-old resident of St. Martin, said in an interview on Sunday. "People are fighting in the streets for what is left." Residents of St. Martin, and elsewhere in the region, spoke about a general disintegration of law and order as survivors struggled in the face of severe food and water shortages, and the absence of electricity and phone service.
As reports of increasing desperation continued to emerge from the region over the weekend, governments in Britain, France and the Netherlands, which oversee territories in the region, stepped up their response. They defended themselves against criticism that their reaction had been too slow, and insufficient. Both the French and Dutch governments said they were sending in extra troops to restore order, along with the aid that was being airlifted into the region. –New York Times
"There was some looting in the first few days, but the Dutch marines and police are on the street to prevent it," Paul De Windt, publisher of The Daily Herald, a newspaper on the Dutch side, said on Sunday. "Some people steal luxury things and booze, but a lot of people are stealing water and biscuits."
The storm directly hit the region beginning on Wednesday. Irma destroyed entire airports and ports, knocked out power and potable water systems, and left tens of thousands of residents and tourists isolated and increasingly desperate for food and water, and unable to go anywhere to get it. The crisis then worsened on Saturday as Hurricane Jose rumbled through the region. Though the islands hit by Irma avoided a direct blow from the second hurricane, its arrival forced the suspension of relief and rescue operations, prolonging the agony for many already desperate to survive.
According to NBC News, the State Department said Sunday that more than 1,200 United States citizens have been evacuated from the hurricane-damaged island vacation hot spot of St. Martin amid reports of looting and violence — but the Dutch government said reports of a rumored prison break were "unfounded."
As preppers are well aware, when the needs of the population cannot be met in an allotted time frame, a phenomena occurs and the mindset shifts in people. They begin to act without thinking and respond to changes in their environment in an emotionally-based manner, thus leading to chaos, instability and a breakdown in our social paradigm.

When you take the time to understand how a breakdown behaves and how it progresses, only then can you truly prepare for it. –Ready Nutrition
People get violent when food and water are scarce. Even minimal prepping and a small safe space for non-perishable food and water would have been an asset to those in the path of Irma.