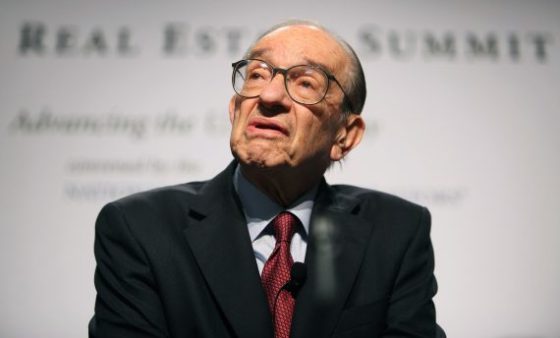 Former Federal Reserve Chairman Alan Greenspan said it's not a matter of "if" but "when" the U.S. will experience negative interest rates.  "You're seeing it pretty much throughout the world. It's only a matter of time before it's more in the United States," Greenspan said.
While speaking with CNBC's "Squawk on the Street " on Wednesday, Greenspan added that he thinks investors should watch the 30-year Treasury yield. The 30-year U.S. rate traded at 1.978% and it reached an all-time low last week. Currently, there are more than $16 trillion in negative-yielding debt instruments around the world as central banks try to ease monetary conditions to sustain the global economy. The 10-year sovereign bonds in Belgium, Germany, France, and Japan  (among others) are trading with a negative rate.
Negative interest rates seem like a winning solution, however, it's not something we should wish for in the U.S.  It'll devalue any savings you have, meaning you'll be paying the bank to hold onto your money.  And that's not all:
The housing bubble would also get much worse if the Federal Reserve decided to send the rates to below zero. Negative rates in Denmark have caused the prices of homes to soar as people believe they can afford a larger house with a bigger payment since the rates are negative. When that bubble crashes and people stop repaying their loans at all, interest rates will cease to matter. Homes will be lost, and people will suffer major dings to their credit scores making future buying difficult, if not impossible. –Future Money Trends
If you think that the Federal Reserve won't lower rates in this "booming economy," think again.  The central bank has already cut rates once and is expected to ease up again later this month. Market expectations for a rate cut in September are at 92.7%, according to the CME Group's FedWatch tool.
Greenspan added that gold prices have been surging recently because people are looking for "hard" assets they know are going to have value down the road as the population ages. Gold futures are up more than 21% in 2019 and are trading around levels not seen since 2013.  Gold can be seen as more of insurance than an investment, however, it seems to be a popular alternative to stockpiling cash, and with good reason.
In the book, Stack Silver Get Gold: How To Buy Gold And Silver Bullion Without Getting Ripped Off!
by Hunter Riley III, you'll learn how to properly accumulate a hard asset without getting taken advantage of.
Want to learn how to start safely buying gold and silver bullion like a precious metals expert in about an hour? This 2019 updated edition of Stack Silver Get Gold is the only gold and silver investing book you'll ever need because it's written by a nationally recognized precious metal investing expert and Chicago Mercantile Exchange futures trader with 15 years of buying gold and silver bullion under his belt. He reveals all the tricks of the trade that most people in the gold & silver industry probably don't want you to know.