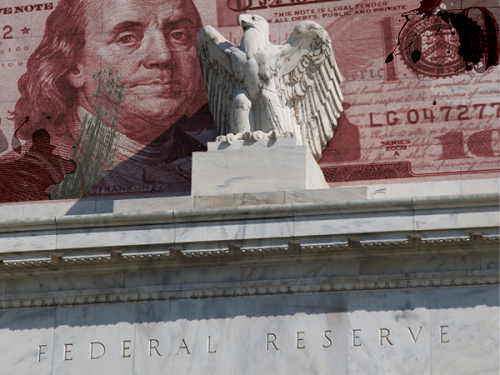 According to Sven Henrich, the founder and the lead market strategist for NorthmanTrader.com, this regulation of the economy by the central banks is all going to end badly.  The fact of the matter is simple: central banks are hopelessly trapped.
Henrich says that it's only a matter of time before investors learn the hard way that this sudden capitulation by central bankers is not a positive sign, but rather a sign of desperation. In a recent article he wrote for his website Northmantrader.com, Henrich says this economic manipulation by the central banks is all going to end badly.
"Even some ardent bulls will freely admit this, the question is the how, when and the where. Frankly, it's a tragedy that's unfolding and discerning eyes can see it. Since the December lows markets have taken the scripted route higher salivating at the prospect of dovish central bankers once again levitating asset prices higher," Henrich wrote.
He also tweeted that this is all "a shell game" in which central banks are trapped.
https://twitter.com/NorthmanTrader/status/1115940124645310465?ref_src=twsrc%5Etfw%7Ctwcamp%5Etweetembed%7Ctwterm%5E1115940124645310465&ref_url=https%3A%2F%2Fnorthmantrader.com%2F2019%2F04%2F10%2Fcombustion%2F
The capitulation is as complete as it is global and 10 years after the financial crisis there is not a single central bank that has an exit plan. As today's Fed minutes again highlighted: No rate hikes in 2019 while the tech sector is making a new all-time human history high this week. What an absurdity. A slowing economy ignored by markets as cheap money once again dominates everything.

So great is the fear of falling markets and a slowing economy that the grand central bank experiment has ended in utter failure. But at least the Fed tried for a little bit before capitulating. -Sven Henrich, NorthmanTrader.com
In their desperation, to cling to wealth and power (that they created) central banks may have set a combustion process in motion that they can't stop, one that may bring about even more ghastly consequences than the market troubles they sought to avert in the first place.
Read Henrich's entire article here: NorthmanTrader.com