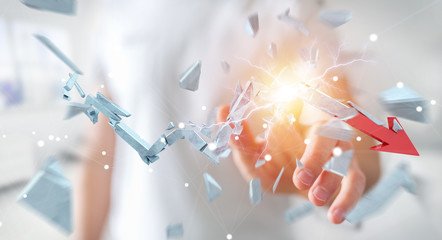 Many sectors and geographical areas within the United States are already experiencing a recession.  Faced with the choice of raising prices or cutting employees hours to pay for the tariffs, many are officially backed into a corner.
While the mainstream media and the political establishment continue to claim China is paying for the tariffs, those actually stuck paying them are calling it what it is: propaganda. It's just politics as usual.  "It's just an outright lie, and he [Trump] knows it," says Greg Petras, president of Kuhn North America, which employs some 600 people at its farm-equipment factory in Wisconsin. For Kuhn, Trump's trade war has produced a toxic mix of rising costs and falling revenues. "You're slamming your fist on the steering wheel and saying 'Why would you tell people this?'"
According to Bloomberg, hours are being cut and the workforce is being furloughed to make ends meet. About 250 Kuhn employees spent the Labor Day holiday caught in a two-week furlough, and they're facing another in early October. A shrinking order book means Kuhn is cutting costs and slashing production as Petras and his managers peer out at a U.S. economy that looks far bleaker from the swing-state heartland than it does in either the White House or on Wall Street.
Financial Experts Warn: Americans WILL Pay The Cost Of A Trade War
Whether the U.S. is headed for a recession or not appears to be the main debate right now.  However, there is plenty of evidence that corners of the economy may already have stumbled into one thanks to the tariffs. Manufacturing is already officially in a recession as the costs of doing business after the tariffs (tax on American businesses and consumers) have begun to sink their claws in.
https://www.shtfplan.com/headline-news/u-s-manufacturing-is-officially-in-recession_07172019
The sad truth is that Americans simply don't want to face the facts when it comes to the trade war.  Trump's words appear good enough for too many while they assume his intentions are what we should be judging.  The road to hell is paved with good intentions, and while he may want to "level the playing field" when it comes to China, the damage being done in the United States to businesses and already tapped out consumers borders on cruel. The truth doesn't care about Trump's intentions, unfortunately, and it's time to face the facts.
The Ugly Truth About The Trade War
And Donald Trump himself said it if anyone cared to listen.  He doesn't see the economy as important as "sticking it" to China. "To me, this is much more important than the economy," Trump told reporters on September 4. "Somebody had to do this." Trump has also placed the blame on the businesses that are heavily impacted by his tariffs for their woes, calling them "badly run and weak," and threatened to force American companies to abandon China.