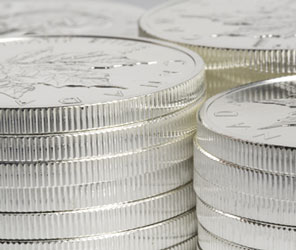 As panic gripped global financial markets and stocks collapsed after the new year, investors around the world began to shift capital to safe haven assets. Nowhere was this more evident than in precious metals, which up until recently had seen a significant drop since the all-time highs reached in 2011.
Last week we noted that there were literally lines around the block in London as concerned individuals who had lost trust in the system anxiously awaited their chance to shift their paper currency into physical assets.
It was a major indicator of what we can expect in the future should the economy collapse or the monetary systems of the globe come under threat. In fact, we've seen it time and again. As Greece's economy crashed in 2010 and citizens of the beleaguered country lost access to critical medicines and saw a barter economy emerge, the price of gold on the global market was trading at around $1100 per ounce. On the streets of Greece however, people were willing to pay as much as $1700. In Zimbabwe, when their currency hyperinflated, people could be found panning for flakes of gold just so that they could buy food to feed their families for a day.
And according to well known analyst James Turk, we'll soon see the real value of gold, and especially silver, as uncertainty and crisis grip the world.
This time we'll far exceed the highs set in 1981 and 2011 of $50 says Turk in a recent interview with King World News:
Silver first has to break above the red downtrend line, which means silver needs to break above roughly  the $18 level. When it does, it will be a signal that silver has begun forming a new uptrend. Then that uptrend needs to take silver to $50, completing the handle part of this pattern. Third, silver needs to break above the horizontal neckline at $50.

…

When that happens, silver will finally begin its bull market. Silver will then head toward the $400 price that can be expected if this cup-and-handle pattern follows its normal historical path.

…

Based on the evidence unfolding, Eric, I expect that the next couple of years will be spectacular for silver.

Full interview at King World News (via SteveQuayle.com)
We may not be able to eat it, but as long as silver and gold are in demand by central banks or individual investors around the world, there will always be a market for it. And if history has proven anything, it's that times of confusion and panic always boost demand for precious metals.
Also Read:
Global Trend Forecaster Gerald Celente On $20,000 Gold: "Here's What We're Forecasting…"
Soros, Icahn and Major New Players Rushing Into the Gold Sector: "Things Are In The Works As We Speak"
As Prices Drop, Gold Sales Explode At U.S. Mint
Video Update: The Gold bullet Market Awakens: "The Smart Money Is Moving In Big"