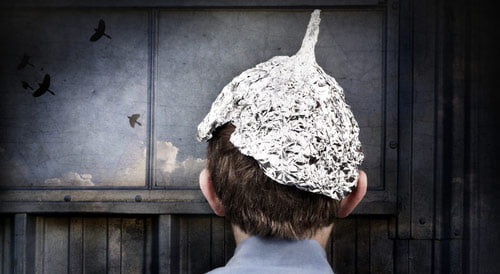 There are many items preppers suggest you stockpile and hoard in the event that something goes wrong. Aluminum foil is one of those items, and it can be used for more than just our tin foil hats!
All joking aside, some preppers have even said aluminum foil will be worth its weight in gold if the SHTF. And it can be found for really great deals at dollar stores and often grocery stores put it on sale. The first tip is to try to get some of the thicker aluminum foil.  The thin stuff just won't cut it for some things!
Here are a five interesting ways you may not have thought of to use aluminum foil.
1.Cast Iron Pan scrubber: Most preppers are big fans of cast iron frying pans. But if you're anything like me, you absolutely hate cleaning them especially after making scrambled eggs. However, with a little bit of crumpled aluminum foil, I have found that it is possible to easily scrub off even the tough, stuck on egg mess. This could also work on really anything that isn't "non-stick" or scratchable.  I have found aluminum foil can be used to get stuck on and baked and caked on gunk off glass bowls or plates.
2. Make your own Campsite Utensils – This is a great trick to try on your next camping trip! Try getting the kids involved too by letting them make their own forks and spoons out of the foil! Practice making the pans to cook in. You can make a frying pan using a forked stick with aluminum foil stretched over the crook. You can easily make plates and bowls, but you can also wrap up veggies and meat to cook over the fire.
3. Sharpen Scissors – now this trick won't turn your scissors into razor blades you can split a hair with, however, if you've got a pair that are dull, aluminum foil can help sharpen them up a smidge.  Just cut through 6-8 layers of foil with your dull scissors once or twice, and they will improve at least some!
4. Prevent Rust on Steel Wool – We've all been there: we use a steel-wool pad once on that, put it in a dish by the sink, and the next day you find a rusty mess fit only for the trash. To prevent rust and get your money's worth from that steel wool, wrap it in foil and toss it into the freezer after use. You can also lengthen the life of your steel-wool soap pads by crumpling up a sheet of foil and placing it under the steel wool in its dish or container. (Don't forget to periodically drain off the water that collects at the bottom.)
5. Fix Loose Batteries – This could really come in handy if the one flashlight you've got has batteries that just won't stay put. Those springs that hold the batteries in place can lose their tension after time letting the batteries loosen and making the device no longer function well. But foil can help fix that! Fold a small piece of aluminum foil until you have a pad that's thick enough to take up the slack. Place the pad between the battery and the spring.
Those are 5 unconventional ways that aluminum foil can be used after the SHTF.  Obviously, there are more ways that foil can be used too, so get creative!