This report was originally published by Sara Tipton at Tess Pennington's ReadyNutrition.com.
Tess is the author of The Prepper's Blueprint: How To Survive ANY Disaster.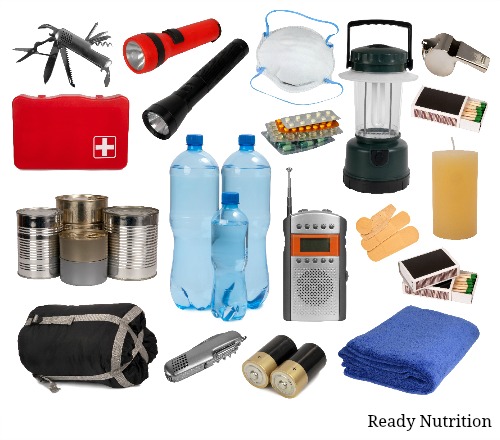 We've done some digging and come across some of the best survival kits offered on Amazon, making the purchasing of prepping gear easy. Depending on your needs and the size of your family, consider adding a small kit to your car or splitting up these kits to upgrade your bug out bag or add to your home prepping stash.
When preparing for a disaster, many overlook the possibility of something happening while in a car and away from home. That's why some of the kits below can be purchased and left in your car so you'll never be left without at least some survival gear.
The peace of mind offered once you've got your car outfitted is difficult to describe, that's why some of these kits offer bags that are light enough they can be moved around (in and out of a car if you choose to not store survival gear in your vehicle) or stored neatly under a bed.
Tianers Professional Outdoor Emergency Survival Gear Kit offers 11 tools, including a military compass, survival (multi-function) knife, saber card, fire starter, whistle, wire saw, flashlight, signal mirror, scraper, tungsten steel pen, and a box to keep it all in. 
At only $23.99, this little survival kit is inexpensive considering what's in it and perfect to toss in a vehicle or set on the shelf with your other prepping tools.  You could also take several of the items and add them to your bug out bag if you happen to be missing a few of the essentials, and for the price, wouldn't have to worry about splitting up the kit.
If you don't want to split this kit up, don't worry.  It's small and easy to carry. The dimensions of the box containing the other ten items 4.1 x 1.8 x 6.3 inches and it weighs only 0.65 pounds. The box is touted as "sturdy enough to be waterproof and protect the products inside."
This kit will set you back $800, but it has everything you need for a family of four to survive for four days. It comes in an easy to pull waterproof, durable, and lockable container. This kit is perfect to grab and toss in the car in the event of an immediate natural disaster such as an earthquake or hurricane.
It can be stored anywhere and decreases evacuation time to 60 seconds. Easy rolling, mobile, highly durable, lockable, and waterproof case contains a 5 kit emergency system. In that system are a food & water kit, sleep & shelter kit, advanced medical kit, tools & safety kit, and health & hygiene kit.  It contains a tent and sleeping bags and includes a water filtration system.
If you live in one of the nation's "disaster zones" and are ill-prepared for a quick evacuation, though a little expensive, this kit could be a lifesaver.

Available in both a two-person and a four-person kit, the survival gear comes in a discrete red backpack and all supplies are conveniently packaged in a discrete and nondescript red pack.  This kit is only $179.99 for a four-person kit and $139.99 for the two-person version. 
The items come well-organized ziplock bags to keep everything organized and dry and the convenient backpack includes a 48-page emergency preparedness guide. It also comes with a hygiene kit and some basic medical supplies and a flashlight. This pre-made bug out bag could be the perfect solution to the previous more expensive kit and would be excellent for the beginning prepper. 
This compact, convenient sized kit is designed to fit under the front seat, in door panels, or backseat pockets.  Basically, you could toss this thing in any vehicle without losing too much space, and at only $125.99, you could feel confident in having at least some survival gear should you get lost or break down.
This kit will offer you the best supplies for a worst-case scenario. The kit includes critical gear often omitted in DIY kits including light, first aid, utility tools, warmth & cooling, sanitation, and food and water products.

At $299.99, this kit certainly is not the cheapest on the list, but it's a good one for those with minimal prepping under their belt. Even though this kit contains a wide selection of essential survival gear, it still weighs less than 15 lbs. This means that preppers who purchase with this pack will get the best of both worlds – a complete bug out bag that you can actually carry around comfortably.
Purchased individually, the items included in this kit would retail for over $500, but Survival Frog wanted to eliminate any barriers that would prevent customers from being fully prepared. The lifeshield bug out pack is incredibly spacious, offers 2,400 cubic inch survival gear capacity in six organized compartments, and is also insanely durable.
The options are endless, but good and lightweight supplies should be at the forefront of a prepper's mind. Remember, these kits are great on their own or they can be broken up to make the perfect bag or kit for your personal situation. You are limited only by your imagination! The important thing to remember is you must consider your personal situation. Many may not desire a bug out bag, preferring to "bug in" but can use the individual items in some of the kits to add to a car kit or enhance a home prepping stash.
***
(Sign up for our FREE newsletter to get the latest prepping advice, gardening secrets, homesteading tips and more delivered straight to your inbox!)
Additional Resources:
The Prepper's Blueprint: The Step-By-Step Guide To Help You Through Any Disaster
The Prepper's Cookbook: 300 Recipes to Turn Your Emergency Food into Nutritious, Delicious, Life-Saving Meals
Prepper's Home Defense: Security Strategies to Protect Your Family by Any Means Necessary
The Survival Medicine Handbook: A Guide for When Help is Not on the Way
SAS Survival Handbook, Revised Edition: For Any Climate, in Any Situation
---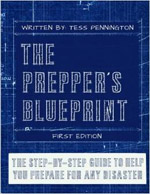 Tess Pennington is the author of The Prepper's Blueprint, a comprehensive guide that uses real-life scenarios to help you prepare for any disaster. Because a crisis rarely stops with a triggering event the aftermath can spiral, having the capacity to cripple our normal ways of life. The well-rounded, multi-layered approach outlined in the Blueprint helps you make sense of a wide array of preparedness concepts through easily digestible action items and supply lists.
Tess is also the author of the highly rated Prepper's Cookbook, which helps you to create a plan for stocking, organizing and maintaining a proper emergency food supply and includes over 300 recipes for nutritious, delicious, life-saving meals. 
Visit her web site at ReadyNutrition.com for an extensive compilation of free information on preparedness, homesteading, and healthy living.