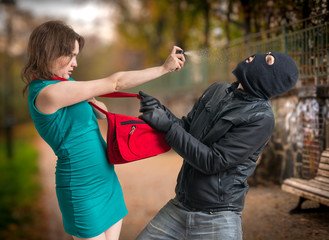 When one wants to protect themselves, the obvious tool to grab is the gun. However, not everyone is completely ready to take a human life and some situations may not warrant such an escalation in violence anyway.
Non-lethal weapons could come in handy in many situations, such as petty theft, where killing the robber may be more mentally harmful to the person exercising their self-defense rights than using a non-lethal method would be. At the end of the day, you'll have to use your own judgment and decide what is best for you, but protecting yourself and your family should always be a priority.
At just under $350, a high-quality pepper spray gun is a pretty good option. This has the added bonus of looking almost like a real gun, and offers some long-distance protection, up to 150 feet.  This kit includes 1 pepper spray gun, 10 pepper spray rounds, 10 practice rounds, 1 magazine (7-round), 1 lockable case (lock not included), 1 easy to follow user manual. (12 gram, non-threaded CO2 not included).
This tool has been proven safe and effective by agencies including the U.S. Military, State police, and the Federal Bureau of Prisons. It is also easy to use, especially for smaller persons. There is no violent kick or loud bang when fired. It can also be loaded ready to use indefinitely, so when you're in need, this thing is ready. It's the most expensive option on this list, but likely the most effective and in self-defense, as with most things, you get what you pay for.
Although it's going to be hard to trick a bad guy into thinking this is a real gun, a taser is still a good self-defense weapon. A good one will set you back about $345, but it will offer you some long-distance protection as well.
This taser pulse gun comes with a laser LED, 2 Live Cartridges, and a lithium power magazine battery pack. If you can't quite swing the price tag on this one and don't mind getting up close and personal, a Vipertek stun gun could be an option.  It's less than $23!

This stun gun also comes with shock plates on the side of the unit will also deliver a high voltage shock should an assailant try to take it from you.  It also has "ultra-sharp spike electrodes" to help penetrate through thick clothing and an internal rechargeable battery.
This is a less expensive option and will give you the security of being a little further away from an attacker than, say, using a knife or the above stun gun. Costing only $7.99, this is an affordable option for those on a tight budget.
Sabre Advanced Compact Pepper Spray is a 3-in-1 Pepper Spray, uses CS Tear Gas & UV Marking Dye and has a 10-foot range. It'll last for 35 bursts and comes with helpful links to get you used to using it. It comes with a clip to hook onto your belt or pants making it easily accessible. 
DOG
You could do something as simple as adopting a dog. There are a lot of shelter dogs looking for a good home and having one around often makes robber think twice before entering your house. 
A dog will not only alert you and your neighbors to a potential threat, but depending on the breed, but they could also get territorial and attack an intruder for you, keeping your property safe and/or giving you and your family a chance to escape.
*NOTE: I am not, in any way, advocating against guns for self-defense. I'm simply offering solutions for those who opt for a non-lethal form of self-defense. Everyone has the right to self-defense, even those who choose to not use a gun for whatever reason.