This article has been generously contributed by Michael Snyder. You can follow his regular writings, research and analysis at The Economic Collapse Blog and The American Dream. Read his recent book The Beginning of the End to get an idea of what America may look like in the very near future.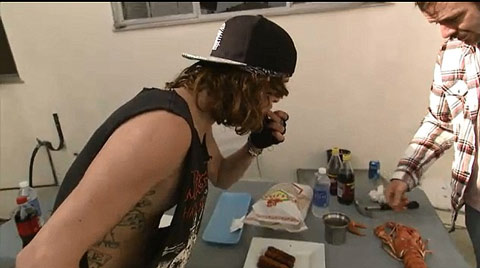 (Jason Greenslate enjoys a taxpayer funded lobster with friends)
What should be done with a 29-year-old welfare parasite that believes that in addition to practicing with his rock band, his main job in life is to "make sure the sun's up and the girls are out"?  Most people that receive government assistance truly need the help and do not abuse the system, but there are definitely others that do abuse the system and do not make any excuses for doing so.  When 29-year-old Jason Greenslate was recently asked if he would be willing to take a job driving a truck in North Dakota for $80,000 a year, he said that he would not.  He would rather keep purchasing sushi and lobster with his EBT card and hanging out with his rock band.  Greenslate seems very happy with his taxpayer-funded lifestyle, and he says that he wants "to thank the United States of America, and the situation — the way things are set up".  Is this really what we pay taxes for?  The rest of us are taxed into oblivion so that we can fund the endless partying of parasites like Jason Greenslate?  What in the world is happening to this country?
If you have never heard of Jason Greenslate, let me get you caught up by quoting the article that I wrote about him last year…
When he was asked if he ever had any interest in actually getting a job, his response was "not whatsoever".  Instead, he says that his job is to "make sure the sun's up and the girls are out" and he would rather spend his days partying.  Of course every American should be free to live their own lives as they see fit, but the problem is that Jason Greenslate is using food stamps to help support his lifestyle.  In fact, he took Fox News into the gourmet section of a local supermarket where he purchased sushi and lobster with his EBT card.  Sadly, he is just like millions of other young men in America today that seemingly have had the drive to succeed and to be independent totally sucked out of them.  But what is the future of America going to look like if we continue to produce millions upon millions of young men that have absolutely no desire to make a living, get married and start a family?
Just recently, Sean Hannity had Greenslate on his program and asked him if he felt bad that his fellow Californians are being taxed at extremely high levels in order to pay for his lifestyle.   Sadly, this does not appear to bother Greenslate.  The following is from a recent Fox News article…
Hannity pointed out that Greenslate rides around in a Cadillac Escalade and frequents strip clubs, all while receiving government assistance and not working at a job that actually pays.

When Hannity asked Greenslate who he thinks pays for his food stamps and free health care, Greenslate said, "Government, taxes, us, the people."

"Not you, because you're not paying taxes," Hannity responded.

Hannity went on to point out that nearly 60 cents out of every working Californian's dollar goes to taxes. "You're taking their money and you just don't seem to care," Hannity said.

"Who says I don't care?" Greenslate asked, adding that he was "thankful."
Hannity even asked Greenslate if he would take a job as a truck driver for $80,000 a year, and Greenslate refused…
Hannity went for broke: "If I could get you a job that would pay you $80,000 a year driving a truck in North Dakota, would you take it?"

Greenslate paused for a moment to think about it: "No."
Of course most Americans actually do want to work, and only go on government assistance if they really need it.  Unfortunately, however, there are a lot of "Jason Greenslates" out there, and their numbers are growing with each passing year.
And without a doubt, life is tough if you are trying to survive at the low end of the wage scale these days.  It is hard enough to take care of yourself, much less an entire family, on 9 or 10 dollars an hour.
For many, it is simply easier to give up on working for a living and depend on the government instead.
Not that it is easy to find any kind of work these days.  The percentage of low wage jobs in our economy has steadily risen, and the competition for those jobs can be very intense.  Large numbers of college-educated workers are now finding themselves forced to apply for low wage jobs, and this is forcing many less educated workers out of the labor force entirely.  The following comes from a recent CNBC article…
Today's low-wage workers are also more educated, with 41 percent having at least some college, up from 29 percent in 2000. "Minimum-wage and low-wage workers are older and more educated than 10 or 20 years ago, yet they're making wages below where they were 10 or 20 years ago after inflation," said Mr. Schmitt, senior economist at the research center. "If you look back several decades, workers near the minimum wage were more likely to be teenagers—that's the stereotype people had. It's definitely not accurate anymore."
But when many college-educated professionals start working these sorts of jobs, they find that they require extremely hard work.
For example, posted below is an excerpt from an article entitled "My Life as a Retail Worker: Nasty, Brutish, and Poor" by reporter Joseph Williams.  Let's just say that he didn't really care for his time working in retail after he unexpectedly lost his job…
It didn't matter if it was at the beginning of my shift, if the store was empty, or if my knees, back, and feet ached from hours of standing. Park your behind while on the clock, went the unspoken rule, and you might find it on a park bench scanning the want-ads for a new job.

Another quick observation: Working in retail takes more skill than just selling stuff. Besides the mindless tasks one expects—folding, stacking, sorting, fetching things for customers—I frequently had to tackle a series of housekeeping chores that Stretch never mentioned in our welcome-aboard chat. Performed during the late shift, those chores usually meant I'd have to stay well past the scheduled 9 p.m. quitting time.

Mop the floors in the bathroom, replace the toilet paper and scrub the toilets if necessary. Vacuum. Empty the garbage. Wipe down the glass front doors, every night, even if they don't really need it.
Yes, working in retail can be physically, mentally and emotionally exhausting.
I know this from personal experience.  In my younger years, I worked a number of retail jobs.
But nobody should be afraid of a little hard work.
That is what built America.
If you do have a job, you should be thankful.  The truth is that there are millions of Americans out there that would do just about anything for a decent job at this point.
Of course the U.S. economy should be doing better that it is right now.  I truly wish that it was like the good old days when any hard working person could easily find a decent job.  Thanks to decades of incredibly foolish decisions by our leaders, those days are permanently gone.
And if you think that things are bad now, just wait.  The U.S. economy is already heading toward another recession, and the next great financial crisis is rapidly approaching.
So let us enjoy this period of relative stability while we can.
Very soon, millions more Americans will be losing their jobs and the number of people that actually need government assistance is going to go even higher.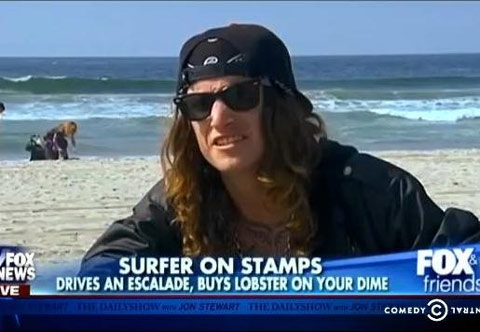 Michael T. Snyder is a graduate of the University of Florida law school and he worked as an attorney in the heart of Washington D.C. for a number of years. Today, Michael is best known for his work as the publisher of The Economic Collapse Blog and The American Dream. If you want to know what things in America are going to look like in a few years read his new book The Beginning of the End.