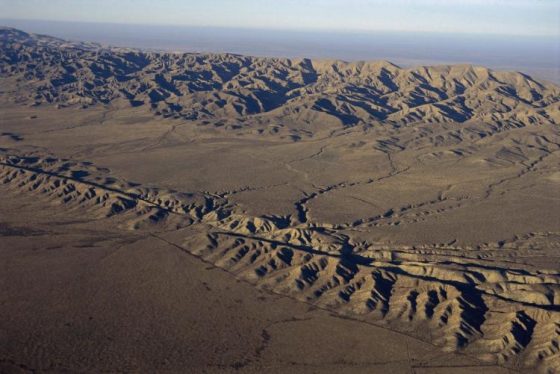 The 134 earthquakes that have had the San Andreas fault line rocking and rolling this past week are igniting fears that the "big one" could be just around the corner.
According to The Daily Mail, in the last week, 134 earthquakes have hammered a three-mile stretch around Monterey County on the San Andreas fault. Fresh fears have been raised that a huge earthquake is about to hit California after a swarm of recent tremors in the area.
Of those earthquakes, 17 were stronger than 2.5 magnitude and six of them were stronger than 3.0, with more tremors expected in the coming weeks, experts warn. It follows fears raised last week that the 'Big One' is about to hit after a series of ten "mini-quakes" struck the same area. The swarm included one 4.6-magnitude quake that was felt in San Francisco more than 90 miles (145 km) away. The 4.6 shock was followed by 9 smaller aftershocks. The largest of these aftershocks measured a magnitude 2.8, Annemarie Baltay, a seismologist with the US Geological Survey in Menlo Park, told SFGATE.
"This one has been a quite productive aftershock sequence," said Ole Kaven, a US Geological Survey (USGS) seismologist. "We suspect there will be aftershocks in the 2 to 3 [magnitude] range for at least a few more weeks," he said. There have not been any reports of injuries, writes San Francisco news outlet SFGate.  
Experts have continuously warned that any activity along the San Andreas fault line is a cause for concern because of the soaring population that would be affected. "Any time there is significant seismic activity in the vicinity of the San Andreas fault, we seismologists get nervous," Thomas Jordan, director of the Southern California Earthquake Centre, told the LA Times last year.
Seismologist Dr. Lucy Jones, from the US Geological Survey, warned in a dramatic speech that people need to act to protect themselves rather than ignoring the threat. Jones said people's decision not to accept it will only mean more suffer as scientists warn the 'Big One' is now overdue to hit California. In a keynote speech to a meeting of the Japan Geoscience Union and the American Geophysical Union, Dr. Jones warned that the public is yet to accept the randomness of future earthquakes.
People tend to focus on earthquakes happening in the next 30 years but they should be preparing now, she warned. Jones said there are three key reasons why the peril is so frightening – it cannot be seen, it is uncertain, and it seems unknowable. This means people bury their heads in the sand and pretend it won't happen when they should be prepared and soon for the "big one."