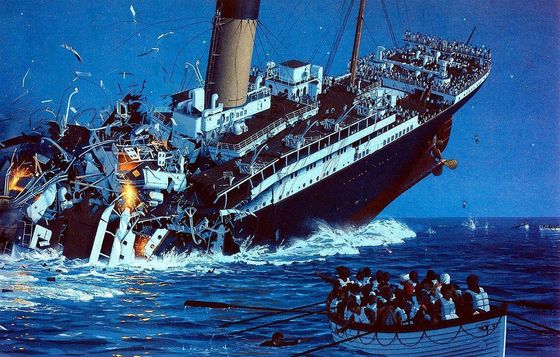 Look around and you can't miss it.
The world is on the brink… politically, economically, financially, monetarily, and militarily.
Events are accelerating. Over the last decade trend forecaster Gerald Celente has been blaring the alarms.
If you've been paying attention, then you've heard them. You know we're going under.
And this time they're not going to be able to stop it.
It will be worse than the panic of '08.  It will be deeper.  It will be more painful and there's a reason why… because they will not be able to pull off the stimulus game again.

Everybody got hip to it and it didn't work. You read even the Financial times, the major media, CNBC, Bloomberg… everyone will now admit that the stimulus only bought borrowed time. So the stimulus game doesn't work anymore, and the governments are so in debt they can't have the fiscal policy. So you have no monetary policy and you have no fiscal policy to stimulate the economy.

We're going into the Greatest Depression.

But they will try to boost it some way. And that's when I believe gold and silver prices will again skyrocket. They can stay low, I believe, for another several months… even a year. But I don't see them staying down forever.

I don't give financial advice. I'm a long term buyer and a long term holder of gold.

Why would I want this digital paper not worth the paper it's not printed on?

And number two on this whole area of gold and the economy… I believe they're going to take us to war just like they did during the Great Depression. When all else fails they take you to war and we're hearing the war drums beating louder and louder throughout the middle east as the middle east is collapsing.

…Hey, great job that Noble Peace Prize winner Obama did…
Full Interview with Gerald Celente and Greg Hunter via USA Watchdog:

(Sourced via Before It's News)
The end result of this economic destruction for many Americans, as Celente noted in a previous interview, will be a one way ticket aboard the Auschwitz Express and global war.
Forget about stock markets, bond prices and economic statistics being released by the government. Those don't matter unless you're actively trading or have your money in retirement accounts (in which case you might consider making an exit).
What matters now is insulating yourself as best as possible from the coming destruction to Americans' wealth and day-to-day lives. As Celente suggests, gold is an asset you want to be in possession of. Likewise, when our system of commerce comes to a standstill as a result of the collapse of the world's reserve currency you need to own barterable physical assets and have them easily accessible.
We will soon see what it truly means to live (and survive) in a depression.
With nearly 50 million Americans on food stamps, 100 million on welfare, and no economic progress in sight, it won't be long before the world as we have come to know it changes drastically.
Expect riots, starvation and bloodshed. You can be 100% sure that the government is planning for exactly this scenario.
The signs, as they were before the crash of 2008, are everywhere. It's happening right now.
Buckle up, folks.