This article was contributed by Future Money Trends.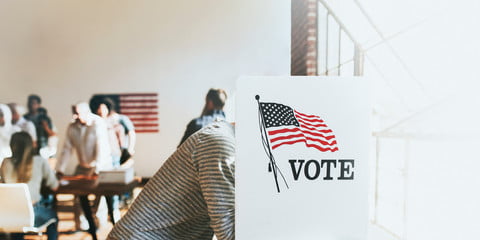 The United States and many parts of the Western World, as well as developing nations, are watching their screens today, anticipating how the elections will turn out.
Most voters don't pick their president based on results, but on how they make them feel. 70% of voters have no idea what the platform of Donald Trump or Joe Biden is; they are familiar with buzzwords and general terms but can't or won't devote the time it takes to arrive at a factual, wise, and wholehearted decision.
This election day is determined by peer pressure, media propaganda, and largely by the way the candidate makes you feel about whether or not you'd want to be his friend.
A political leader with the responsibilities of the president doesn't have to fit into that slot of "a nice guy to have coffee with," although it doesn't hurt.
This job of occupying the White House between now and 2024 is about one thing: the ABILITY to perform the work required.
FutureMoneyTrends.com believes that Donald Trump is in trouble in Arizona, a state that could tilt the balance towards the Democrats. We also believe that Trump crusaders woke up at 5 AM today and are doing anything they can possibly do to help their candidate.
Therefore, our prediction is that Donald Trump is likely to win, by securing PA, MI, and NC, as well as FL and GA, giving him 308 Electoral College votes, but we shall see.
What I'd like to do now is analyze the precious metal sector for each of the two scenarios, a Biden victory and a Trump one:
Between now and December 8th, when the electoral college vote is materially finalized, there might be legal debates that arise due to the probability of mail-in fraud, late voting, or other manipulative actions.
What markets want more than the certainty of knowing who will be the next President of The United States is MORE STIMULUS.
Starting in March, after they poured everything they had into this economy, the Federal Reserve has become second fiddle to Congress.
QE programs and low, zero, or negative interest rates are the norm. Markets have already priced in the fact that they'll stay there for years. Households can only function and originate mortgages thanks to this. Businesses can only recycle loans, refinance debt, and borrow funds because of it. Governments can only keep their giant deficits in motion due to this reality, and it won't change anytime soon.
Joe Biden and the Democrats – The most important policy change that will be enacted if Biden ends up winning is his attitude towards China.
Biden is likely to ease up big time.
This is important because this kid-gloves approach is likely to cause the world to be less fearful of animosity between these two countries, the world's strongest empires. As you know, in the past four years, President Trump has not started any new war; his attitude towards foreign policy included far less back-channeling and much more of a public approach, putting pressure on China, Europe, and the Middle East, out in the open. Our opinion is that Biden's way could lead to a Chinese confidence boost and new war fronts could emerge, just like when Russia felt brave enough to attack Ukraine.
The bottom line is that a Biden victory is likely detrimental to the U.S. dollar and we believe that under his administration, commodities and stocks will trade in tandem, OPPOSITE TO HOW they did in the past twelve years.
Since silver is 55% below its all-time high, our rating of it as a likely winner is even bigger than gold's. We would not be surprised to see strong silver performance in 2021 and beyond, testing its legendary $50/ounce high.