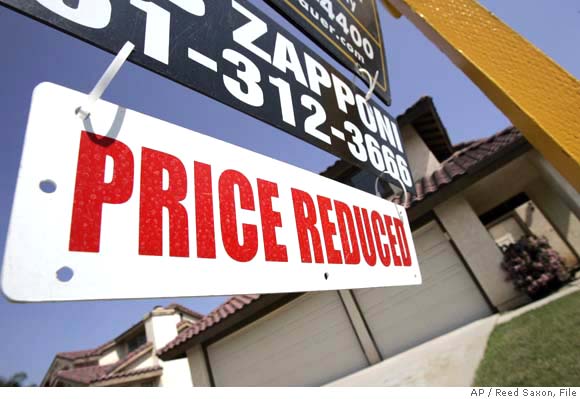 Bad news for homeowners and real estate investors who were expecting a recovery real estate.
Despite the trillions of dollars pumped into the economy to 'stabilize' prices at pre-crash bubble highs, nature continues to force a shift towards equilibrium in the real estate market:
The ailing housing market remains hampered by the backlog of distressed properties, which is growing larger as banks repossess more homes than they sell.

Banks now hold more than 872,000 homes, nearly twice as many as in 2007, the New York Times reports, citing data from RealtyTrac. In regions like Atlanta and Minneapolis, banks are seizing more homes than they're selling, suggesting that their staffs are overwhelmed by the volume of foreclosures, the NYT notes.

…

As of January, the shadow inventory constituted a nine-month supply of properties, according to a March report from data-provider CoreLogic.

The fall in prices even appears to be accelerating, as home values fell 3 percent in the first three months of this year, for the biggest quarterly drop since 2008, according to a report from data-provider Zillow. Home values will continue falling through the year, and likely won't stabilize until 2012, Zillow chief economist Stan Humphries said in a statement earlier this month.

Source: Huffpost
While Zillow claims that the real estate market will stabilize in 2012, we will continue to vehemently disagree. Zillow did, after all, predict a stabilization of the housing market in 2011 – and we can see how that forecast went.
As we've pointed out before, our view is that the real estate market has at least another 20% decline to go – minimum. And it could be a lot worse.
In June of 2010 we commented on the so-called "home run" in home sales, as mainstream analysts called it, resulting from the home  buyer tax credit.  We wrote:
That's right, the housing market will continue on its decline trajectory.

Homes are a debt based asset, and the easy creation of money from 2001 to 2006 led to massive price increases – we're talking 50% to 100% asset value rise in an asset that remained fairly price stable for about 100 years.

The system is now trying to correct this extreme upward price swing. In the last couple of years the government tried to counteract the corrective deflationary pressures in an attempt to "stabilize" housing prices at overblown 2007 levels by making mortgages inexpensive, providing tax credits and loan modifications.

All of these billion dollar programs have failed. FAILED.

In April, the Federal government told us that home sales were up 27%. We were told this was a "grand slam" for the housing recovery.

We warned you that this was a complete fabrication driven by the aforementioned policies and that we could expect a return to decreasing home sales and prices this summer.
Given that we are not in any sort of economic recovery, but rather, a relapse into recession, we expect a continued to deflationary impact on the housing market. First, we have people losing their homes every year in the millions. Second, we have people losing jobs in the millions. Third, we have banks refusing to make mortgage loans in any meaningful capacity. The long-term trend is down.
As mentioned above, home price values sky rocketed before the bubble – some in excess of 100%. This was the pendulum swinging into one direction. Now we've had a reversal and we can expect the pendulum to shift towards equilibrium – towards a historical balance. That balance means that home prices should be somewhere around their historical average of about $140,000 (inflation adjusted, of course). Since the pendulum is swinging, however, we can expect to see an extreme swing in the opposite direction of the bubble, and we would not be at all surprised to see a decline from top to bottom in the area of 50% to 75%.
That sounds a little extreme, we know. The Japanese didn't think it could happen when their real estate bubble popped in the early 1990's either. But it did.
Not only do we not expect a stabilization in home prices in 2012, we will venture a forecast that prices will be unstable, regardless of stimulus, bailouts and machinations, for the rest of this decade.