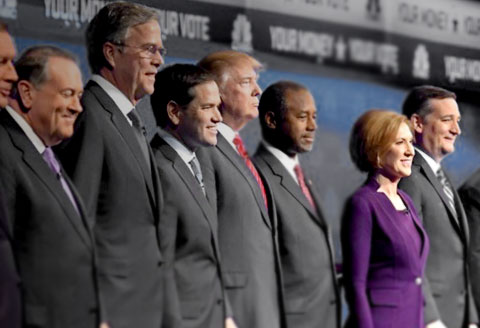 This article was written by Michael Krieger and originally published at his Liberty Blitzkrieg website.
Editor's Comment: As Mark Twain said, "If voting made any difference they wouldn't let us do it." Politics is just entertainment to distract from the fact that Americans have been disenfranchised, and that their vote is powerless to change things.
Candidates obviously don't keep their political promises, but if they aren't even bothering to make them in the first place, and sell voters on the idea that they might address big problems – like the dismal job opportunities and crumbling economy – than there is even less hope of the problem being fixed. Just keep shopping, and carry on…
The American Banana Republic – GOP Debate Spent More Time Discussing Fantasy Sports than Wall Street Reform
by Michael Krieger
Fortunately for me, I don't have cable so watching last night's Republican debate was not even an option, despite the fact that the clownish spectacle was held right in my backyard of Boulder, Colorado. All indications are that I missed absolutely nothing of significance, which is far from surprising.
However, one thing that I found interesting based on the post debate commentary of those who had the painful experience of watching it, was the fact that more time was spent discussing fantasy sports regulation, than Wall Street reform.
As the New York Times notes:
It's easy to miss things when watching long, crowded presidential debates like the CNBC event on Wednesday night. So it can be good to go back to the transcript the next morning to verify one's recollections.

I looked for the discussion of how to regulate the financial sector that I must have somehow missed. I searched for "Too big to fail" and turned up one fleeting reference by Ben Carson. There were zero references to "Glass-Steagall," the Depression-era banking law discussed extensively in the Democratic debate earlier in the month, or "Dodd-Frank," the 2010 law meant to rein in risks in the financial sector.

The transcript also revealed that I was not hallucinating when I saw a reasonably detailed discussion of whether the government should regulate "daily fantasy sports" sites — and learned that Jeb Bush's fantasy football team is undefeated and is anchored by the Miami Dolphins quarterback Ryan Tannehill.
And you wonder why the country is circling the toilet bowl.
For related articles, see:
The U.S. Department of Justice Handles Banker Criminals Like Juvenile Offenders…Literally
Cronyism Pays – Eric "Too Big to Jail" Holder Triumphantly Returns to His Prior Corporate Law Firm Job
Another Settlement – JP Morgan Receives Slap on the Wrist Despite Years of Fraudulent CFTC Data
Video of the Day – Three Former U.S. Treasury Secretaries and a Facebook Executive Laugh About Income Inequality
In Liberty,
Michael Krieger