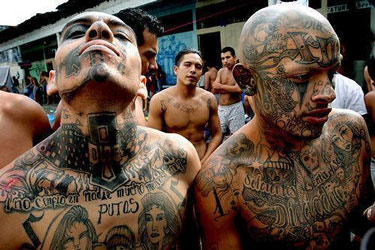 It seems that politics is blocking common sense, and the enforcement of immigration law yet again.
With President-elect Trump's promise to deport criminal illegal immigrants with records involving gang activity and violence, many pro-immigrant groups are concerned that he will cast too wide of a net. So, they are attempting to block Trump from being able to gain access to the CalGang database, California's extensive records on known gang members, many of whom are undocumented immigrants.
It seems that this group would prefer these criminals to run rampant, rather than allow Trump to curb immigration and attempt to address the blowback from unlimited migration, and in influx of crime that has followed sketchy border policy over the past several decades.
via Breitbart:

Immigration advocacy groups are asking California Attorney General Kamala Harris to "block federal access" to the database containing names of gang members in the state.

The goal is to block access before President-elect Donald Trump is sworn in, thereby preventing his administration from seeing the names of individuals who could find themselves on a the deportation short list

VOC put it this way: "In some cases law enforcement agencies put individuals in the database without adequate evidence, failed to purge CalGang records that had not been updated within five years, and poorly implemented a state law requiring that juveniles and their parents are notified before the minor is placed in the database."

Advocacy groups fear that Trump would sift through the names on the database in a search for immigrants who have amassed a criminal record in the US, only "to deport…[illegal] immigrants who've been erroneously labeled as gang members."

In a post-election 60 Minutes appearance, Trump "vowed to immediately deport as many as three million undocumented immigrants, specifically those with criminal records such as gang members and drug dealers."
Basically, if successful, the group would have the state to aid and abet the influx of illegal immigration, while blocking due process to remove known criminal elements from the country at the federal level and enforce the law. It is bizarre and telling of the mindset that they hold.
Trump's appointment of Sen. Jeff Sessions has been interpreted as  a signal that his administration will follow through and indeed be tough on illegal immigrants. Keep one of his key campaign promises would give a boost in his approval ratings from the base that elected him.
Meanwhile, opponents of this policy are ready for a full-scale fight over immigration. And while California is keeping its database of criminal gang members secret, the state of Texas has already estimated that more than 100,000 illegal immigrant gang members  exist in the state, and have contributed to a wave of crimes that could be reduced by sending these individuals back.
As Michael Snyder reported:
Texas state Senator Dan Patrick said there are at least 100,000 illegal immigrant gang members in the state.

On Monday's The Laura Ingraham Show, Patrick, who is also the Republican candidate for lieutenant governor, said from 2008 to 2012, 143,000 illegal immigrant criminals were arrested and jailed in Texas. He said these were "hardened criminals, gang members, and other criminals that we identified as being in Texas illegally."

"We charged them with 447,000 crimes, a half-million crimes in four years, just in Texas, including over 5,000 rapes and 2,000 murders," Patrick said. "We estimate we have 100,000 gang members here illegally."
The people of the United States have overwhelmingly sounded off in favor of reduced immigration and tighter controls over how to handle undocumented aliens. But, it is as if the system won't let that happen.
Clearly, the problem won't be fixed over night.
Read more:
Illegal Immigration And Gangs: Someday Our Cities Will Burn Because We Didn't Protect Our Borders
This Stunning Chart Shows How Trump's Border Wall Will Stop Illegal Immigration
Trump Finally Explains How He Would Force Mexico To Pay For The Border Wall
Watch: How Liberals React When Asked to House An Illegal Immigrant Child In Their Homes
Obama Unleashes Open Border Free-for-All: "Might As Well Abolish Our Immigration Laws Altogether"
Report: Mexico Wants To Build Trump's Wall To Stop Illegal Immigration