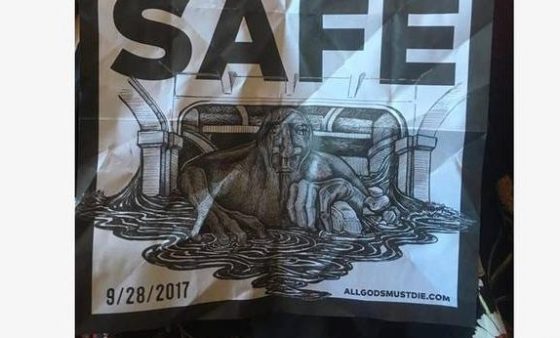 Strange notes in the form of origami butterflies have been found in the city of Seattle. The ominous messages declare that the reader of the note, "is not safe."
The appearance of these creepy messages are strange, and some of the theories are even stranger. In recent days, some Seattle residents have found little-folded up notes around the city in neighborhoods like Capitol Hill, Queen Anne, and Fremont. Some of the notes are folded into origami butterflies giving them a softer visual appearance. But when one unfolds the sweetly looking butterfly, inside is the phrase, "You Are Not Safe," superimposed on a Seattle-specific image — the skyline, or the Fremont Troll. There's also a date, "9/28/17."
While the troll may appear ominous at first glance, it's just a sculpture, but it is appearing on some of the origami warnings. Some of the notes also display a web address, www.allgodsmustdie.com.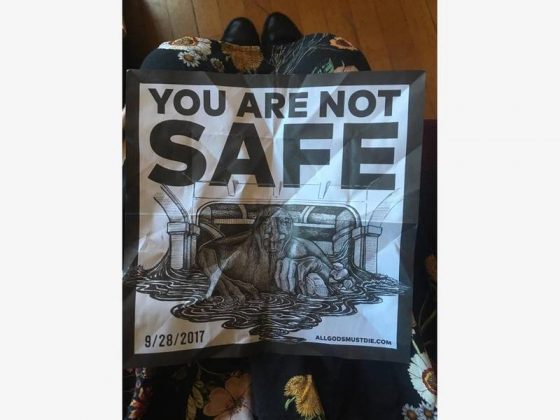 One of the images in these strange folded notes depicts the Fremont troll surrounded by what could be a river of anything liquid. From blood to coffee or even water, the minds of those who have seen these are running wild. The date and website complete the message.
The website doesn't seem to be working at all at the time of this writing, but even before that, The Seattle Patch reported that there isn't much at all on the site anyway. If you were to visit it while it is working, you see a scramble of letters that eventually move together to form that phrase, "You Are Not Safe." In the background, Wagner's "Das Rheingold" plays. If you wait long enough, an image of what appears to be an upside-down psychedelic goat appears behind the words.
Another of the eerie notes unfolds to show a mirror image of the Seattle skyline. When you look closely, one side is missing the Space Needle. People have speculated about the note being a threat against Seattle's most famous landmark. Or, could it be a reference to the heroin epidemic and King County's safe-use heroin injection site proposal?  No one knows.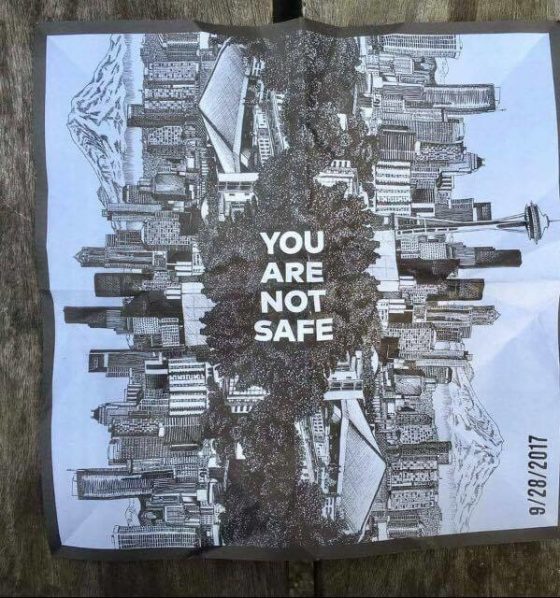 Queen Anne resident Alyson Rae was among the Seattleites who found a few of the notes. They were scattered outside her apartment building over the weekend. When Rae unfolded one of the notes and saw what was inside, she was a little concerned. She went on Facebook and attempted to unravel the mystery, but input from people online has only created more questions and upped the creepiness factor exponentially.
Perhaps the oddest note of them all contains images of famous Seattlites. In front of rainbow colors, the note displays the odd and creepily drawn depictions.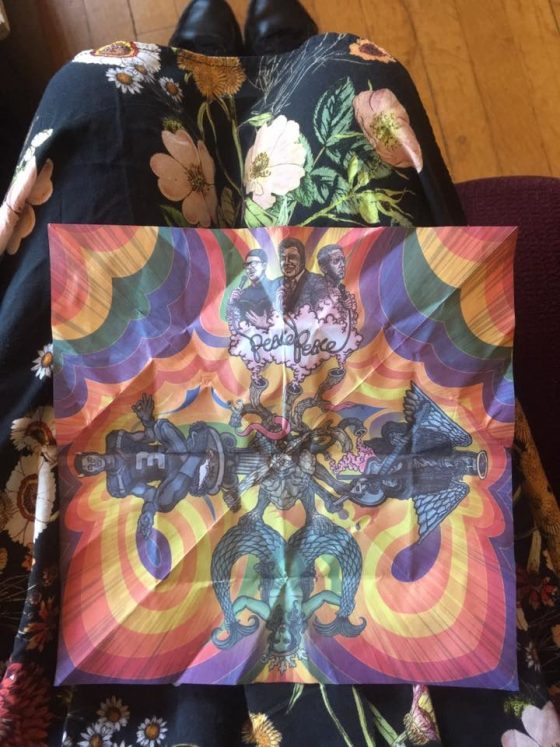 Making an appearance, is Kurt Cobain (the deceased lead singer of Nirvana), Russell Wilson (the quarterback for the Seattle Seahawks), with what looks like small white devil horns on his head, and the Starbucks mermaid who has scars on her chest. At the top of the image is the most befuddling part: three men whose identities are debatable. The one in the middle is most likely former mayor Ed Murray; people think the one on the right might be Stranger editor Dan Savage. Some say the one on the left, the guy holding a book, is Judah Smith from The City Church.
Regardless of the inherent creepy factor, authorities are not concerned. And speculations as to why the messages appear, include a marketing campaign for a video game or some kind of viral advertising scheme. But no one is certain what the meaning is or the reason these strange notes appeared.