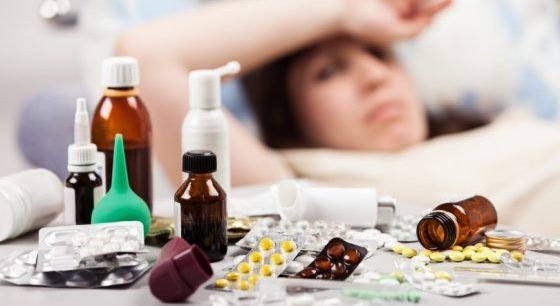 Medical officials are sounding the alarm that this year's flu season could be a bad one. Although it's early, they have already noticed that the vaccine created is going to be mostly ineffective.
According to CNN, last year's seasonal flu vaccine effectiveness was just 42%. The US Centers for Disease Control and Prevention estimated those results.  That's better than other years' vaccines too.  Even if vaccinated, people had very little protection against the flu anyway and it's causing concern.
Each year before flu season begins, a vaccine is made based on whichever virus strains are expected to circulate. The selected seed strains are distributed to vaccine manufacturers, which produce their formulations and make them available to healthcare professionals before the season begins. During the 2015-16 season, vaccine effectiveness was 47%, but for the 2014-15 season, effectiveness was just 19%, according to the 
CDC
. While the overall effectiveness of last season's vaccine was 42%, it was only 34% effective against the H3N2 viruses that dominated the season.
The limited effectiveness in last year's vaccine was due to a mutation that occurred in the influenza A (H3N2) vaccine strain, according to a study published Monday in the journal Proceedings of the National Academy of Sciences. This vaccine mutation resulted from an egg-based manufacturing process commonly used today.  And this year's vaccine is also far less than perfect, said Scott Hensley, author of the new study and an associate professor at the University of Pennsylvania. Add to that, he said, "this could end up being a pretty bad flu season."
Even though the flu shot isn't effective, Hensley is still pushing people to get vaccinated saying it's still the best chance you've got, but warnings that the vaccine is not effective are not really convincing people to get vaccinated.  Why pay for a shot just to get the flu anyway?
Making a better vaccine isn't going to happen soon either.  "Most of the infrastructure to produce vaccines in the US is based on chicken eggs," Hensley said. There are good reasons for this, including the fact that egg-based propagation allows manufacturers to quickly produce large quantities of vaccine. Though egg adaptations have always been a problem, beginning last year, it had become a "huge problem," he said. "As soon as you try to grow this virus in eggs, within a few hours, the virus will acquire this kind of mutation."
This is not an easy problem to fix, he said. To produce vaccines in cells means "a very expensive process for companies to just change their overall manufacturing process," Hensley explained. "You can't really do that on the drop of a dime."