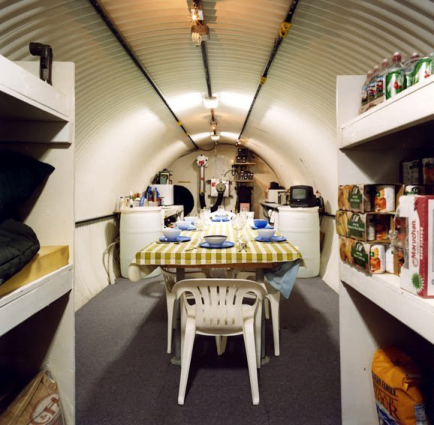 This article was written by Amanda Froelich and originally published at TrueActivist.
Editor's Comment: Increasingly, society is poised to be separated into two groups – those who are completely vulnerable during a collapse, and those who will be ready to survive.
The latter group will not just include the wealthy, but also the frugal and prepared type who take nothing for granted, and make extra preparations in case of the worst. While a major catastrophe may not fall upon the country, there are many crisis flashpoints that could strike at any moment – and put entire regions into danger.
These underground survival communities are everything that cities are not – they are isolated, self-contained and self-sufficient – all great assets during a prolonged disaster that could include rioting, looting and roaming gangs looking for easy targets.
World's Largest Survival Community Has 575 Off-Grid Bunkers [Take A Peek]
By Amanda Froelich
In an unsuspecting location exists the world's largest survival community, where doomsday preppers can invest in an eco-friendly bunker for just $25,000.
In one of the most unassuming locations exists the world's largest survival community, complete with 575 off-grid doomsday bunkers. Near the southern edge of Edgemont, South Dakota (population 740),  the Vivos xPoint community can be found.
Survivalists who wish to prepare for the worst can lease an off-grid bunker in a high-security area for $25,000. Additionally, there is a $1,000 per year ground lease that extends for 99 years.
The survival community was once an Army depot that used to store ammunition and bombs from 1942 to 1967. Now, it exists as a potential refuge located about 100 miles from the "nearest known military nuclear targets." In the case of WWIII, a zombie apocalypse, or (more likely) an economic collapse, at least 5,000 people can find security while the world falls apart. According to Vivos, each bunker can endure a 500,000-pound internal blast – just to be safe.
Each bunker, which is approximately 1,800 to 2,400 square feet, is covered by a berm. Inside, residents will find life-sustaining resources, including water which can be acquired via two wells and is stored in reinforced concrete tanks.
The company claims 10 to 20 people can subsist in a bunker for an entire year. And, those who lease a spot in the community can hire a contractor to outfit the shelter however they please. Additionally, Vivos sells a turnkey shelter.

Credit: Vivos

Credit: Vivos
Tenants of a bunker can choose geothermal heating, solar or wind to provide backup power for a generator, or even a nuclear, biological and chemical (NBC) air filtration system, reports Inhabitat. As the potential for "SHTF" increases, Vivos intends to install a general store, shooting range, hydroponic gardens, horse stables, medical clinic, classroom, and a members-only restaurant. Of course, other planned amenities will likely also be included.
In fact, Vivos wants to make sure those who prep ahead don't just survive, they thrive. The company has suggested creating more shelters to store art, wine, cars, and other fine things of modern life.
According to Business Insider, the community is presently empty. However, it's the place one will want to be in the case of impending disaster. And if South Dakota doesn't seem appealing, Vivos also offers communities in Indiana and Europe.
This article was written by Amanda Froelich and originally published at TrueActivist.