In an America that has succumbed to complete financial and governmental collapse, a handful of determined survivors must make their way to safety.
For those who have read one of the original survivalist novels, Patriots, and more recently, the step-by-step guide to preparedness How to Survive the End of the World as We Know It, you'll be excited to learn that Survival Blog founder James Rawles has released a new fictional novel (though it reads more like the real thing than a fictional story).
Survivors: A Novel of the Coming Collapse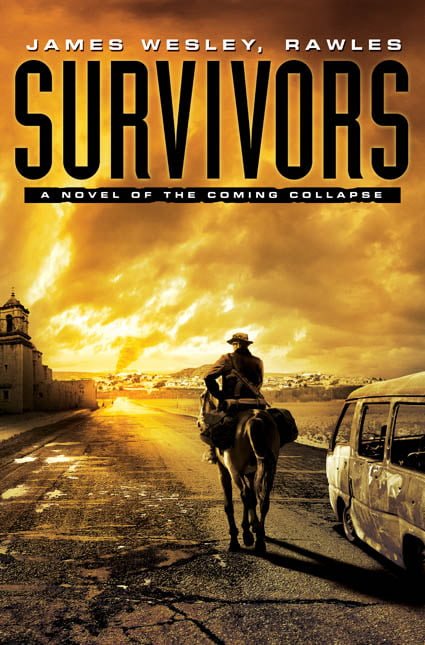 A Brief Overview:

Instead of extending the Patriots saga further into the future, the storyline of Survivors is contemporaneous with the action in the first book. But it is set in different locales, with mostly different characters, with vastly different levels of preparedness. The novel opens with the perspective of a U.S. Army officer deployed in Afghanistan, just as "The Crunch" begins. Unlike the protagonists in Patriots, most of the characters in Survivors don't have deep larder, so they are forced to scramble and improvise.

…

The America we are accustomed to is no more. Practically overnight the stock market has plummeted, hyperinflation has crippled commerce, and the fragile chains of supply and high-technology infrastructure have fallen. The power grids are down. Brutal rioting and looting grip every major city. The volatile era known as "the Crunch" has begun, and this new period in our history will leave no one untouched. In this unfamiliar environment, only a handful of individuals are equipped to survive.

Andrew Laine, a resourceful young U.S. Army officer stationed overseas in Afghanistan, wants nothing more than to return home to Bloomfield, New Mexico. With the world in turmoil and all air and sea traffic to America suspended, Laine must rely on his own ingenuity and the help of good Samaritans to reach his family. Andrew will do whatever it takes to make it home to his fiancée, no matter how difficult the circumstances.

Major Ian Doyle is a U.S. Air Force pilot sta-tioned in Arizona with his wife, Blanca. Their young daughter, Linda, is trapped in the North- eastern riots. Three teenage orphans, Shadrach, Reuben, and Matthew Phelps, have no choice but to set out on their own when their orphanage closes at the beginning of the Crunch. Then there is Ignacio Garcia, the ruthless leader of the criminal gang called La Fuerza, who will stop at nothing to amass an army capable of razing the countryside. And over everything looms the threat of a provisional government, determined to take over America and destroy the freedoms upon which it was built. The world of Survivors is a terrifyingly familiar one. Rawles has written a novel so close to the truth, readers will forget it's fiction. If everything you thought you knew suddenly fell apart, would you survive?
James Rawles, affectionately known here at SHTFplan as "The Godfather of Survival," is without a doubt the leading expert on survival and preparedness for unforeseen circumstances and far-from-equilibrium scenarios. Like the first book in the series, Patriots, you can fully expect potentially real life situations in Survivors to meld perfectly with preparedness lists, tactics, tips, solutions and recommendations that can help you to plan, prepare and thrive in the event of a serious breakdown in the world as we have come to know it – regardless of the causes.
If you are planning on acquiring a copy of Rawles' new book Survivors but have yet to read Patriots or Surviving The End of the World as We Know It, we urge you to take the time to review these highly acclaimed books in detail as well, as they will certainly open your eyes to a world of possibilities – some you may not have even thought to contemplate.
Get SURVIVORS at Amazon (also available on Kindle)