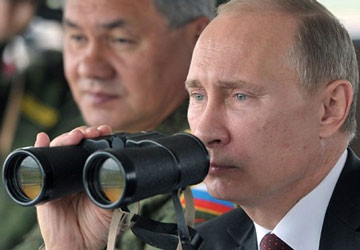 What can you tell about the state of relations from a string of deaths?
At home in the U.S., the rhetoric against Putin has never been stronger. The hacking narrative continues to be in use, and behind the scenes, tensions are boiling up in every respect. Flynn was axed from Trump's administration, and the struggle between deep state and head of state becomes all but transparent.
Elsewhere, there have been Russian diplomats piling up dead, including the ambassador to the United Nations who had a heart attack in New York. The televised execution of a Russian diplomat in Turkey was seared into the collective consciousness. More quietly, there were other deads, too, in Moscow apartments and hotel rooms.
Now key opponents of Putin, and Western-sponsored supporters of Ukraine are winding up dead. This will change the narrative. Is this Russian intelligence evening the score, or is it CIA framing their adversaries?
The answers are nebulous, but it is clear that the Cold War is back on.
via Reuters:
Ukraine accused Russia of "state terrorism" after a former Russian lawmaker and key witness in a treason case against former leader Viktor Yanukovich was shot dead in broad daylight outside a hotel in central Kiev on Thursday.

Russia called the allegation "absurd".

[…]

Voronenkov fled to Ukraine last year and was helping the Ukrainian authorities build a treason case against Yanukovich, Ukraine's pro-Russia former president.

[…]

"Voronenkov was one of the main witnesses of Russian aggression against Ukraine…

"He had provided investigators… with highly important (witness) testimony for the case. This was a typical show execution of a witness by the Kremlin," Lutsenko said.
So, the trial was a highly staged show trial by the puppet government in Ukraine to affirm their version of events. Now, Russia has the appearance of silencing witnesses to stymie those proceedings.
It is a tangled web, and there is a great deal at stake.
All sides are working from the shadows, and clearly the provocateurs are attempting to kick off enough major conflict.
Former CIA acting director and deputy director Mike Morell publicly stated on television that he wanted to assassinate the people close to the leaders of Russia, Iran and Syria.
And not long after he advocated covert, targeted killings, Putin's favorite chauffeur died in a suspicious car crash – the implication, between the lines, was that they wanted him to know they could get to him, get close to the people who surround him.
A deep state war is going on, but the state of confusion may be great. Are we being misled? Who is wagging the dog? What is real, and what is theater for the political hacks?
Read more:
"7 Bodies Since Election Day": Why Are So Many Russian Officials Turning Up Dead?
"Putin's Favorite Chauffer" Killed In Accident… Exactly As Former CIA Director Described On TV
This Tipping Point Could Easily Escalate To World War III: Putin Says "The Threat of Nuclear War Is Very Real"
Taunting Putin, Syria and Iran: CIA "Deliberately Picking a World War"