Editor's Note: Amid a host of concerns that include, but are not limited to, rising crime, a lack of law enforcement during a crisis such as an economic collapse and, most notably, the potential re-election of President Barack Obama for another four years, Americans are stocking up on firearms and ammunition like never before. Last year alone we saw sales of guns in the United States exceed 10,000,000, and according to a recent report some three million Americans are among those preparing for worst case scenarios.
They are purchasing supplies that include self defense armaments, long-term food storage, and off-grid survival tools. Demand is so high for these essential "post-collapse" survival commodities that in December of 2010 it prompted Mountain House, the largest freeze dried food manufacturer in the world, to delay orders for months at a time. Now, similar to the ammunition shortages leading up to the 2008 Presidential election, Americans are increasingly worried about what may happen to their Second Amendment rights under another Obama term.  This has, once again, led to unprecedented demand. Ammunition shortages in popular calibers, for example, have been reported by numerous sources. Likewise, overwhelming demand for firearms has forced one of the world's largest gun manufacturers to suspend all new firearms production orders because they simply cannot keep up.
---
Via Off Grid Survival: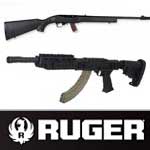 After our story on the Rise of the Prepper, we have been inundated with emails from readers telling us how hard it's becoming for them to obtain certain types of ammo. We also had a reader send us a press release this morning from Ruger.
Effective Immediately Ruger has stopped accepting Firearms Orders. The Company says that they have had to temporarily suspend the acceptance of new orders after receiving requests for more than one million units.
Here is the Official Statement form Ruger:
SOUTHPORT, CT –Sturm, Ruger & Company, Inc. (NYSE-RGR), announced today that for the first quarter 2012, the Company has received orders for more than one million units. Therefore, the Company has temporarily suspended the acceptance of new orders.

Chief Executive Officer Michael O. Fifer made the following comments:

The Company's Retailer Programs that were offered from January 1, 2012 through February 29, 2012 were very successful and generated significant orders from retailers to independent wholesale distributors for Ruger firearms.
Year-to-date, the independent wholesale distributors placed orders with the Company for more than one million Ruger firearms.
Despite the Company's continuing successful efforts to increase production rates, the incoming order rate exceeds our capacity to rapidly fulfill these orders. Consequently, the Company has temporarily suspended the acceptance of new orders.
The Company expects to resume the normal acceptance of orders by the end of May 2012.
In the Rise of the Prepper article, we warned that with Guns, Gold and Emergency Food all setting record sales numbers we will likely see major shortages hit the marketplace. As people begin to stock up on preparedness related items in response to the coming election cycle, we will likely see nationwide shortages similar to what happened during the elections in 2008. I fear this is only the beginning.