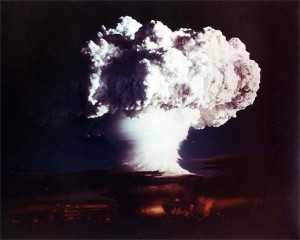 We recently reported that Moscow has expedited the planning and construction of 5,000 new nuclear shelters for the city, scheduled to be operational by 2012 and able to provide emergency shelter for about half of the city's population in the event of a nuclear emergency.
The Russians are not alone in their nuclear response planning, as we've learned from a recent New York Times story. Officials from the U.S. Federal Emergency Management Agency say that the threat of a nuclear attack, namely from terrorists, is still a real possibility and they are "moving aggressively to conduct drills, prepare communication guides and raise awareness among emergency planners of how to educate the public."
Over the years, Washington has sought to prevent nuclear terrorism and limit its harm, mainly by governmental means. It has spent tens of billions of dollars on everything from intelligence and securing nuclear materials to equipping local authorities with radiation detectors.

The new wave is citizen preparedness. For people who survive the initial blast, the main advice is to fight the impulse to run and instead seek shelter from lethal radioactivity. Even a few hours of protection, officials say, can greatly increase survival rates.

Administration officials argue that the cold war created an unrealistic sense of fatalism about a terrorist nuclear attack. It's more survivable than most people think, said an official deeply involved in the planning, who spoke on the condition of anonymity. The key is avoiding nuclear fallout.
A 130 page multi-agency report from the National Security Staff Interagency Policy Coordination Subcommittee for Preparedness & Response to Radiological and Nuclear Threats details planning and response guidance in the event of such an attack. The report, titled Planning and Guidance for Response to a Nuclear Detonation, provides information on a host of nuclear emergency preparedness topics focusing on the first 72 hours after a disaster and includes:
Nuclear Detonation Effects and Impacts in An Urban Environment
Government Response and Zoning Emergency Areas
Shelter and Evacuation Recommendations
Early Medical Care
Population Monitoring and Decontamination
Public Preparedness Information
This is another example of many that suggests the government regularly plans, coordinates and war games emergency response for potentially catastrophic events that include not just nuclear, chemical or biological attacks, but far-from-equilibrium scenarios like economic meltdown, domestic riots, societal collapse, and even asteroid impacts.
Emergency planners on the federal and local levels have often warned that a widespread emergency, even a short term event, could lead to a breakdown in essential supplies of food, water and medicine. This would certainly be the case in the event of a nuclear attack.
The reality is that when it hits the fan you'll be on your own, so having some basic knowledge and supplies on hand could be the only thing that stands between life and death.
A plethora of information for surviving nuclear attacks is available from government emergency planners as well as independent sources.
The government's Citizen Corp web site also has details on nuclear emergencies, even providing an illustration of protective sheltering in the immediate aftermath of a detonation: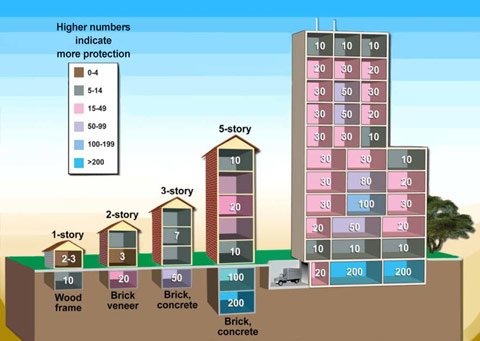 Those who are interested in learning more about the effects of radioactive threats like nuclear fallout and blast radii, and how to respond in the event of a nuclear emergency will find benefit in reading the Planning and Guidance report.
Interactive Nuclear Detonation Mapping:
Enter your zip code or city in the search field. Choose your "weapon" below the map and click "Nuke It" to map effects. Click here if application does not load
Also Read:
The Effects of Nuclear Weapons, Primary U.S. Targets, and Nuke Detonation Mapping

Federal Nuclear SHTF Response Will Be Non-Existent

SURVIVE ANYTHING! Chapter 1: Nuclear Attack
EMP – The End of Life As America Knows It (Short-Film)
Homeland Security To "Regionalize" Emergency Supplies Over Next 90 Days
The US Government Is Prepping For Unlikely Events Like War, Catastrophic Collapse of Society, and Even Asteroids