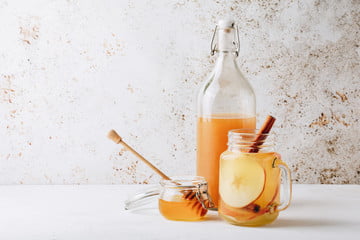 As winter approaches, it is important to boost the immune system and give it the upper hand when fighting off the nasty viruses that cause a cold or the flu. Fire cider is an excellent option! It is an immune-boosting health tonic that's been used for decades to naturally protect against cold and flu and ease sinus congestion.
Fire cider is also relatively easy to make!
INGREDIENTS
1/2 cup Fresh Horseradish – helps alleviate sinus congestion and headaches.
1/2 cup Ginger root, peeled and grated – helps with digestion, infections, and nausea.
2 cloves Garlic, crushed or chopped – has antimicrobial and antibacterial properties.
1 medium Onion, chopped – has similar properties to garlic but is also great for preventing and recovering from colds and the flu.
1/4 tsp Cayenne pepper – improves circulation.
1 Tbs Turmeric – anti-inflammatory and antioxidant.
1 Lemon, the zest and juice – contains vitamin C.
Apple cider vinegar – numerous benefits, including aiding with digestion.
1/4 cup of Raw Honey – soothes organ inflammation.
It sounds awful already, but keep in mind, you can add more honey to kill some more of the taste of the harsher ingredients. Because apple cider vinegar can erode the tooth enamel because it is so acidic, consider diluting the mixture.
Add the ginger, horseradish, onion, garlic, lemon zest and juice, turmeric, and cayenne powder into a quart-sized glass jar.
Pour the apple cider vinegar in the jar until all the ingredients are fully covered and the vinegar reaches the top of the jar. You want to be sure all the ingredients are covered to prevent spoilage.

 Use a piece of natural parchment paper under the lid to keep the vinegar from touching the metal, or use a plastic lid if you have one.

Shake the jar well to combine all the ingredients. Store in a dark, cool place for 4-6 weeks, remembering to shake the jar a few seconds every day.
After one month, use a mesh strainer or cheesecloth to strain out the solids, pouring the vinegar into a clean jar. Be sure to squeeze out as much of the liquid as you can. The solids can then be used in a stir-fry or you can compost them.
Add some honey to the liquid and stir until incorporated.
Taste your fire cider and add more honey if needed until you reach your desired sweetness.
Store in a sealed container in the refrigerator or in a cold, dark place.
Drink 1-2 Tablespoons when needed, diluted or straight to give your body an immune boost.
Alter this recipe if you'd like! There's no need to add cayenne pepper if you simply cannot tolerate the taste.  You could try incorporating rosemary and jalapeno peppers too!  The sky is the limit and this recipe is incredibly flexible!
Try the fire cider today! It's cheap and easy and can help give the body a leg up this winter when fighting off those germs! If you don't feel up to making your own fire cider, you could always get some that's premade. Fire Cider, Apple Cider Vinegar Tonic with Honey, contains all certified organic ingredients, is not heat processed, and not pasteurized.