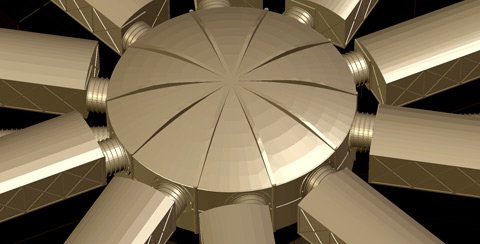 While some preparedness minded individuals have created their own personal hideouts, bug out locations and homes away from major cities, many are stuck between a rock and a hard place. One of the challenges with moving the entire family out of a city and into a rural setting is maintaining an income. Most of the jobs are in the cities, and most require your physical presence at your job location, making it nearly impossible to create an effective country or rural habitat stocked with food, defense armaments, water sources, equipment and other necessary preparedness supplies.
Even if you were to have the time, energy and wherewithal to establish an emergency home site, you're posed with several challenges, one of which is maintaining security. If you don't reside at the home site as a full time resident, there is always the threat of thieves breaking into the home, running off with thousands of dollars of supplies, which is a serious operational security issue if an emergency were to arise. If you get to your bug out location and your home has been looted it could lethal. Additionally, unless you've already have an established network of friends, family and neighbors of like mind, in a doomsday-like scenario resulting from natural or man-made causes, maintaining regular security over your perimeter will be a daunting and almost impossible task to accomplish.
This is where the Terra Vivos Underground Shelter Network comes in.
In May of 2010 we ran a report about Robert Vicino, a preparedness entrepeneur who was embarking on a mission to build self-contained shelters designed to be safe havens in the case of a catastrophe. As of this writing, Mr. Vicino, head of shelter building management firm Terra Vivos, has built several large-scale group shelters around the United States with one mega-shelter being constructed in Central Europe. The shelters are capable of accommodating from as little as 80 people in some of the US shelters to 2,000 people in their European "mega-shelter."
Here's a short video tour of the Vivos underground shelter systems:
There are a variety of price points available, depending on the shelter and the specific needs of the inhabitants. The "economy class" shelters, for example, would run a single individual about $9,950 and come stocked with food, fuel, medical and hygienic supplies for up to six months. Economy shelters provide inhabitants with everything they need to survive a doomsday event – anything from economic collapse to nuclear war. You may not be able to bring along the contents of your entire house when entering the economy class shelter due to storage limitations and you may not have the privacy and comfort you're used to because walls are separated with canvas and curtain doors, but you'll definitely fair better than the majority of the population stuck on the outside. According to Vivos, the economy class shelters rate about 2.5 stars on the hotel rating scale.
For those look for longer term living – up to one year – and some added luxuries, Vivos offers first class 4 star accommodations through their Nebraska and Indiana shelters. The price is a bit more steep, ranging from $25,000 to $35,000 per person. But there's certainly a benefit for the added fee. These shelters include interior decoration, exceptional quality furnishings, private rooms with hard walls and substantial storage space for personal belongings. The shelters are designed to face any threat we can conceive of, including nuclear, earthquakes, and even super volcano eruptions. The Indiana shelter, for example, is a Level 5 hardened nuclear shelter capable of withstanding a 20 megaton blast if it occurs within just a few miles of the shelter. The Nebraska shelter boasts 137,000 square feet of space, can accommodate over 900 people, and is strategically located in a wildlife area so when it's time to return above ground, there will be plenty of game, fish, water and vegetation to start a new life.
But what of the day to day living within the shelter? We contacted Vivos via email with some questions about how the shelters were managed and what type of staff they support.
To become a member of a Vivos shelter group you'll need to go through a screening process that will look at the experience, skills and background you bring to the table. Each shelter is designed to be an autonomous unit, so the members of any particular shelter will need to have the skills to deal with, among other things, day-to-day management of personnel, security (internal and perimeter), and medical needs. Essentially, each shelter will be populated like a MAG, or Mutual Assistance Group.
Something that is of importance to anyone who may be moving into a facility where they don't know anyone is how the "local government" works. We asked Vivos, and they have a well organized plan for this, as well:
"Each shelter has its own set of Bylaws, Regulations and a Code of Conduct.  They are made available to actual buyers through the escrow process. The primary rule is: Cause no harm to any other member.  If someone does, each shelter has a security force and detention area."
Vivos says that the evidence and signs are clear that changes are coming. They pointed out something we and our contributors have discussed in recent years: It wasn't raining when Noah built the ark. This, of course, is one of the driving motivations for many of us who are preparing for the worst. It's better to be a month or a year early with your preparedness efforts than it is to be a day late.
When we asked Vivos if they had any other comments to share with our readers with respect to a wide-scale disaster and their underground shelters, they responded with a simple question : "Which side of the door do you want to be on?"