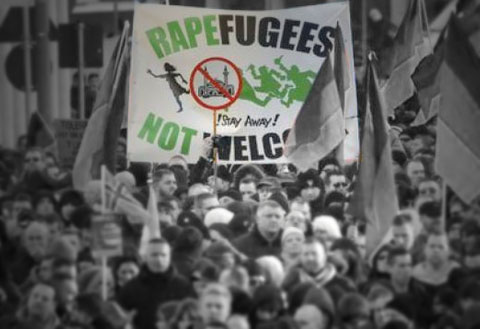 This disturbing article was written by Daisy Luther and originally published at her TheOrganicPrepper.ca website.
Editor's Comment: These are the fruits of the cultural clash that has been forced upon us. The same elites who have orchestrated war in the Middle East are now forcing Western civilization to lie down as ideological enemies are brought in around them. In horror, ordinary people must watch as the authorities do nothing to stop a literally raping and pillaging of Europe, and the United States could easily be next.

As sacrosanct values about men & women, and firm laws protecting people from sexual assault are all ignored with impunity, Western leaders lie to their populations and pretend that nothing is wrong, as the Caesars of the day open the gates for the barbarians in order to undermine and destroy the Middle Class. How many women will be raped and harmed as people are expected to play nice and make way for mostly male refugees in spite of the systematic criminal behavior exhibited by certain among them.
Above all, we may not be able to control the bizarre and twisted policies of the governments of the world, but individuals in this country can and should be armed. Women across the spectrum of ages should be trained with firearms, and certified to carry where appropriate, and generally brought up in a culture of self-defense that will make it much more difficult for foreigners or anyone to victimize the American women. Men, too, should regain some semblance of chivalry and courage, and step up to defend women, keep watch over and protect them as best as possible. Even a carefully laid plan to destroy the West cannot take root in the United States if the people refuse to allow it to happen!
——————————–
Taharrush: Asylum Seekers Play the "Rape Game" Across Europe
by Daisy Luther
If you were concerned about all of the sexual assaults by immigrants in Europe recently, worry no more. It's just a game. The rape game. That shocking spree of sexual assaults on European women, perpetrated mainly by refugees and asylum seekers, is all  in the name of fun (and, you know, superiority and ethnic cleansing).
Most of the attacks that have been reported in the international news have been gang rapes, with 5 or more attackers.
The attacks have been shocking by the sheer numbers involved. The foremost repercussion has been division, not only in the communities where the assaults occurred but in places where they are discussed. Those who are overly cautious about political correctness are uncomfortable with a discussion about the culprits, who have been overwhelmingly Muslim immigrants, refugees, and asylum seekers from places like Syria, Afghanistan, Turkey, and Morocco.
What is Taharrush?
Taharrush, also known as the rape game, is common in countries where women are not valued as human beings, but considered property. Taharrush is all just a big game, unless you happen to be the target of it. The phrase "taharrush gamea" loosely translates to "collective harassment" and it could explain a lot about what has been happening all over Europe.
Speisa.com reports that the "game" has established itself in Europe.
After the NYE mass assaults against women in several European cities, the German Federal Criminal Police Office, BKA, now say that the Arab "rape game" Taharrush has established itself in Europe, reports the German newspaper Die Welt.
In addition to the events in Cologne, police in Berlin, Hamburg, Bielefeld, Frankfurt, Düsseldorf and Stuttgart have reported of similar incidents. In addition, police in Vienna and Salzburg in Austria and Zurich in Switzerland have raised the alarm about similar mass assaults against women by newly arrived Arab migrants. Also Sweden and Finland experienced the same on New Year's Eve."
A report in the UK Daily Mail says that taharrush "is carried out by large groups of men who sexually assault lone women, either by groping, or in some instances, raping them. The men first surround their victim in circles. Some then sexually assault her, while others not directly involved watch or divert outsiders' attention to what is occurring. Sometimes the terrified victim – in a state of shock and unable to respond – is also robbed during the ordeal. And the attack usually goes unpunished because the large number of perpetrators and chaos of the attack means authorities are unable to identify those involved."
The dehumanizing attacks often take place in public during large gatherings. Back in the 1990s, women in Bosnia and Croatia were raped as part of an ethnic cleansing campaign. In fact, one book suggests that it was genocide. "The military policy of rape for the purpose of genocide currently practiced in Bosnia-Herzogovina by members of the Yugoslav Army and the Bosnian Serb military. The author of this outraged protest asserts that rape is being used increasingly as a weapon of war in the Balkans, combining murderous misogyny with rabid nationalism. Allen explains the twisted logic by which perpetrators consider the act as cancelling the victim's cultural identity. If the victim is impregnated, so the theory goes, the offspring is nothing less than "a little Serb soldier."
Political correctness is covering up rapes by refugees.
Our silence and refusal to accept the obvious puts us all in danger. By politely dancing around the subject of the culprits, aren't we turning our backs on the victims? Aren't we diminishing their retelling of the event by our insistence on being politically correct?
Everyone is afraid to be painted with the brush of "bigot." Because somehow, when you point out this truth, you're "Islamaphobic". Speaking of these events that have occurred and naming the criminals who perpetrated the violence somehow makes you a racist (never mind that Muslims are not a race, but a religion) and an ignorant bigot.
When you assign blame for these vicious attacks, even supporting it with facts and statistics, you are treated as though you hate every single person of Middle Eastern descent. In most cases, this is far from the truth. But when you see ISIS celebrating on Twitter about the Paris attacks or gloating with special hashtags about the fear that Americans were feeling after San Bernadino, wouldn't anyone with some common sense look askance? Are we really silly enough to be more scared of hurting someone's feelings or being politically incorrect than we are of openly discussing the culprits in these cases?
So delicate is the subject of who is to blame that authorities are slow to report these crime sprees because they don't want to fuel anti-immigrant sentiment. Meanwhile, the lack of warning leaves community members even more vulnerable to future attacks.
Attacks on women and children are taking place across Europe
Here are some links to shocking stories that have occurred since November. When you see these stories all together, you'd have to be willfully blind not to accept that there is a distinct pattern:
Here's a shocking 20 second video of a victim of Taharrush in Egypt. The victim was a Dutch journalist, covering the uprising in Tahrir Square in Cairo, Egypt and she was assaulted in the same place and manner as CBS reporter Lara Logan in 2011. (Disturbing content)
The victim was raped and beaten by 5 men, and required surgery for her extensive injuries.
In December, this video was made in German and features a migrant discussing the gang rape of a local girl in which they took her virginity by force. (Disturbing content)
You can find even more horrifying examples of rapes by refugees in this report by the Gatestone Institute.
Officials are saying the victims are in the wrong and it's just a big misunderstanding
Meanwhile, authorities in many of these countries are recommending that the women and children of the companies adjust their behavior to keep from being groped or raped. Really, according to these spokespeople, it's all just a big misunderstanding and they'll have a talk with the culprits.
Here are some tips to protect yourself from the rape game
Although many people believe that the mass immigration is nothing more than a Trojan horse to infiltrate Western countries, President Obama has thrown the doors of America wide open to refugees and asylum seekers. As the number of refugees in the United States increase, it's not a far stretch of the imagination to believe that these type of attacks could happen here.
It's essential to cast political correctness aside and be aware that these things can and do happen. For the attackers, it's just a game. For you, it's your life, your body, your dignity, and your peace of mind.
Here are 8 ways to empower yourself.
1. Understand the phenomenon.
There is a lot that can be learned by reading about the occurrences in Europe. Read the accounts from victims and witnesses so that you can understand what happened and prevent it from happening to yourself. Stick with your group, don't let your guard down, and don't think that it "can't happen to you".
2. Practice situational awareness.
Since most of these attacks have taken place in large crowds, it's essential not to let your guard down because you feel safe in public. This book by former Navy Seal Cade Courtley goes into detail about how to hone your situational awareness. Here's an excerpt:
In military-speak, situational awareness is defined as the ability to identify, process, and comprehend the critical elements of information about what is happening to the team with regard to a mission. More simply, it's being aware of what is going on around you…

…Of course, there are environments that require different levels of situational awareness. If you're at home or at a resort, you should fully enjoy the peace and relative security these places afford. As you will learn, these places can be made safe and allow us to relax and enjoy life. On the other hand, airports, the streets of a foreign country, or a crowded stadium event, for example, are not the environments in which to take a mental vacation. You owe it to yourself to stay alert. Just like visualization, situational awareness drills can be practiced anywhere. Make it a game you play using the following checklist:

Situational Awareness Checklist

Try to guess what individuals around you are thinking or doing.
Look for odd behavior or things that seem out of place.
Determine where you'd go if you had to seek immediate cover from an explosion or gunshots.
Find the two closest exits.
Determine whether someone is following you or taking an unusual interest in you.
3. Don't make yourself an easy target.
Hand in hand with situational awareness is how you present yourself. Be sure that you don't look like an easy target. If you look lost, if you're distracted by your phone, or if you're wearing headphones, this can make you oblivious to your environment, causing those who are looking for a victim to find you "easy prey." Here are some tips for presenting yourself in a way that will cause attackers to seek an easier victim.
4. Stay with a group.
It's noteworthy that in each of the attacks, the victim was separated from her group. Take care to stay close to your companions when you're out, and don't go off alone. While it's true we "shouldn't" have to change the way we live, we must also use common sense to remain safe.
5. Trust yourself. 
If you feel like something is wrong, it probably is. The best-selling book, The Gift of Fear, discusses honing your instincts. The author, Gavin de Becker, is an expert in threat evaluation. He teaches you to listen to that little voice inside that warns you something is wrong. All of the weapons in the world won't help you if you don't know when to use them.
"In this empowering book, Gavin de Becker, the man Oprah Winfrey calls the nation's leading expert on violent behavior, shows you how to spot even subtle signs of danger—before it's too late. Shattering the myth that most violent acts are unpredictable, de Becker, whose clients include top Hollywood stars and government agencies, offers specific ways to protect yourself and those you love, including…how to act when approached by a stranger…when you should fear someone close to you…what to do if you are being stalked…how to uncover the source of anonymous threats or phone calls…the biggest mistake you can make with a threatening person…and more. Learn to spot the danger signals others miss. It might just save your life." (via Amazon)
6. Be smart.
No one can say decisively ahead of time, "I'll do this if I'm being raped." To do so is deluding yourself completely. If you find yourself in a situation in which an attack is inevitable, you will have to make a quick judgment whether or not to fight back. Your first priority is to stay alive, and that in itself is a victory. If your attackers are successful, this diminishes you in no way – only them. Sometimes the smartest thing is not to fight and get hurt worse, and only you, in that exact situation in that exact moment, can make that call.
7. If you fight back, be ruthless.
If you do opt to fight back, be as ruthless, vicious, and shocking as possible. There is always a ringleader in these scenarios, and he should be your target. Take him out in the most shocking, horrifying way possible. Shoot him right in the face. Dig in your fingers and yank his eyeball out of the socket. Sometimes the mere shock factor of what you have done will be enough to make the others back off or buy you a second to escape. Attack one person and use psychology to defeat the rest:
Fighting a group does not always mean having to fight the whole group. In fact, your goal is to fight as few of them as possible. Instead of defeating each of their bodies, you must instead destroy their minds.

Your first strike must be spectacular, and very visible to the group.
The more visible the injury is the greater physiological effect it will have on the rest of the group.
The first few seconds of the fight are critical; if you can psychologically defeat the group now, many of them will scatter without ever throwing a punch.
If you are going to fight back, commit 100% to your effort. Do not take half measures or be afraid of your own capacity for violence.
8. Arm yourself.
Do you carry a firearm? Maybe it's time to do so. I'm not promoting this recklessly. I strongly advise that you get some training, and practice, practice, practice. Check out the licensing requirements in your area and securely carry your weapon everywhere you go. Prepare for the day when you might need to use it, mentally and physically. You have the right to defend yourself by any means necessary. Other options, although not as effective as shooting someone in the face, are
I strongly advocate women (and everyone, really) learning to use firearms confidently and effectively. You have the right to defend yourself by any means necessary. Other options, although not nearly as effective as shooting someone in the face, are pepper spray,  pepper gel, and tasers. Know that if the weapon is taken from you, it will most likely be used against you. Act decisively and prepare to run like hell.
What do you think?
So, what do you think of these reports? Is opening the door and welcoming refugees from Syria and Afghanistan a good idea? Do you think we'll see occurrences of the rape game here? Share your opinions and suggestions for keeping safe in the comments section.
– – – – – – – – – –
Daisy Luther is a freelance writer and editor who lives in a small village in the Pacific Northwestern area of the United States.  She is the author of The Pantry Primer: How to Build a One Year Food Supply in Three Months. On her website, The Organic Prepper, Daisy writes about healthy prepping, homesteading adventures, and the pursuit of liberty and food freedom.  Daisy is a co-founder of the website Nutritional Anarchy, which focuses on resistance through food self-sufficiency. Daisy's articles are widely republished throughout alternative media. You can follow her on Facebook, Pinterest,  and Twitter, and you can email her at [email protected]