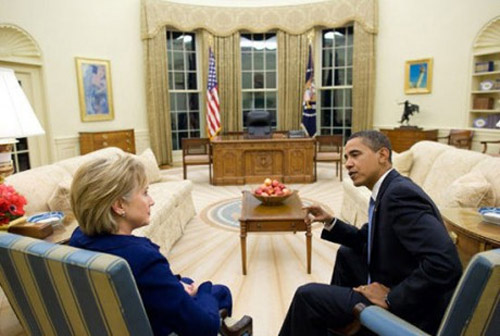 This article was written by Melissa Dykes and originally published at The Daily Sheeple.
Editor's Comment: Lest there be any more loose talk about prosecutions and investigations against the Clintons, there may be pressure on President Obama to sign off on a 'blank check' pardon for Hillary, for "any and all crimes she may have committed" during any time before/during/future.
After all, President Ford pardoned Nixon; it would be good for the continuity of the country, etc., etc. Federal government is so up to the top with corruption and criminality, that its partners and operators in Washington had probably rather sweep it all back under the rug, and endure a few weeks of groaning about such a politically motivated pardon. Hillary will eat crow again, and take the get out of jail free card. Anyone think different?
Big Surprise: Media Betting Obama Will Pardon Hillary Clinton Before He Leaves the White House
by Melissa Dykes
A lot of us figured this was coming, but now the mainstream media is predicting the obvious in print.
In a piece by contributor David Weisberg over at The Hill, he declares that Obama will make sure to pardon Hillary Clinton "for any violations of federal law she might have committed while she was secretary of state."
Weisberg writes:
We should first note that the Obama administration's decision not to prosecute Mrs. Clinton would not bind the Trump administration. Until relevant statutes of limitations have expired, she could still be prosecuted by the new administration. It is possible in my opinion for Clinton to be prosecuted for either her improper handling of classified information on "home brew," or allegations of "pay to play" arrangements between the secretary of state and donors to the Clinton Foundation, which could constitute bribery.

The statute of limitations for most federal crimes is five years from the commission of the offense; that would apply to the two categories relevant to Mrs. Clinton. Her tenure as secretary of state ended Feb. 1, 2013, so it is possible that the statute of limitations will not run until Feb. 1, 2018, more than a year after Mr. Trump takes office.
Apparently, however, there is legal precedent for the acceptance of a pardon being equal to an admission of guilt. It was established by a 1915 U.S. Supreme Court case, Burdick v. U.S. which has never been overturned. In other words, if Hillary takes the pardon, she's admitting she committed at least one crime she committed and needs to be pardoned for.
Then again, is it even likely Trump is actually going to prosecute Hillary anyway? Pretty much as soon as he won, he announced that he no longer planned to. Even Weisberg points out, "Since being elected, Mr. Trump has been remarkably warm towards the person he used to call 'crooked Hillary'." It's been speculated Trump's promise not to prosecute was part of the phone call ensuring Hillary would concede. Then again, they'd been pretty good friends for the two decades leading up to the election.
Weisberg goes on to say he thinks Obama's pardon for Hillary is forthcoming. Why not. The White House won't deny the option is being considered, even though, again, Trump has come out to say he does not plan to prosecute Hillary anyway.
Obama's pardon of Hillary will probably be worded a lot like (if not exactly like) Ford's Pardon of Richard Nixon:
Now, THEREFORE, I, GERALD R. FORD, President of the United States, pursuant to the pardon power conferred upon me by Article II, Section 2, of the Constitution, have granted and by these presents do grant a full, free, and absolute pardon unto Richard Nixon for all offenses against the United States which he, Richard Nixon, has committed or may have committed or taken part in during the period from January 20, 1969 through August 9, 1974.
Hillary's pardon will be just as ambiguously worded, to make sure and cover anything and everything (and there's a lot to cover).
As projected, it'll likely be dated for her entire tenure as Secretary of State, too.
Related Reads
"They're good people. I don't want to hurt them": Did Trump Just Walk Back His Promise to Prosecute Hillary?
Did Trump Make a "Secret Deal NOT To Prosecute Hillary" In Exchange for Her Concession?
The Four Laws That Hillary Clinton Broke (but She Will Probably Never Be Charged For)
Clinton Foundation Operates as Giant Slush Fund for Buying Influence
"Clinton Cash" Book Alleges Foreign Donations to Family Foundation Linked to Political Favors
Hillary, Laughingly: "No Individual is too powerful to jail"
After Loretta Lynch's Mystery Meeting With Bill Clinton, DOJ "Shields Clinton Foundation Emails"
This article was written by Melissa Dykes and originally published at The Daily Sheeple.