This article has been generously contributed by Dr. Joseph Alton and Nurse Amy Alton of the Doom and Bloom Survival Medicine Web Site and appears in their book The Doom and Bloom Survival Medicine Handbook.
---
When the "Buck" Stops With You
The Doom and Bloom Survival Medicine Handbook – Preface
By Dr. Bones and Nurse Amy
Most outdoor medicine guides are intended to aid you in managing emergency situations in austere and remote locations. Certainly, modern medical care on an ocean voyage or wilderness hike is not readily available; even trips to the cities of underdeveloped countries may fit this category as well. There are medical srategies for these mostly short term scenarios that are widely published, and they are both reasonable and effective. An entire medical education system exists to deal with limited wilderness or disaster situations, and it is served by a growing industry of supplies and equipment.
The basic premise of wilderness/disaster medicine is to:
Evaluate the injured or ill patient,
Stabilize their condition, and…
Transport the individual to the nearest modern hospital, clinic, or emergency care center.
This series of steps makes perfect sense; you are not a physician and, somewhere, there are facilities that have a lot more technology than you have in your backpack. Your priority is to get the patient out of immediate danger and then ship them off; this will allow you to continue on your wilderness adventure.
Transporting the injured person may be difficult to do (sometimes very difficult), but you still have the luxury of being able to "pass the buck" to those who have more knowledge, technology and supplies.
One day, however, there may come a time when a pandemic, civil unrest or terrorist event may precipitate a situation where the miracle of modern medicine may be unavailable. Indeed, not only unavailable, but even to the point that the potential for access to modern facilities no longer exists. We refer to this type of scenario as a "collapse." In a collapse, you will have more risk for illness and injury than on a hike in the woods, yet little or no hope of obtaining more advanced care than you, yourself, can provide. It's not a matter of a few days without modern technology, such as after a hurricane or tornado. Help is NOT on the way; therefore, you have become the place where the "buck" stops for the foreseeable future, at least when it comes to your medical welfare.
Few are prepared to deal with this harsh reality. To go further, very few are willing to even entertain the possibility that such a tremendous burden might be placed upon them. Even for those willing, there are few, if any, books that will consider this drastic turn of events.
Almost all handbooks (some quite good) on wilderness survival will usually end a section with: "Go to the hospital immediately." Although this is excellent advice for modern times, it won't be very helpful in an uncertain future when the hospitals might all be out of commission. We only have to look at Hurricane Katrina in 2005 to know that even modern medical facilities may be useless if they are understaffed, under-supplied, and overcrowded.
When you are the end of the line with regards to the medical well-being of your family or group, there are certain adjustments that have to be made. Medical supplies must be accumulated and expanded. Medical knowledge must be obtained and assimilated. These medical supplies and knowledge must then be adjusted to fit the mindset that you must adopt in a collapse: That things have changed for the long term, and that you are the sole medical resource when it comes to keeping your people healthy. As Theodore Roosevelt once said, "You must do what you can, with what you have, where you are."
This is a huge responsibility and many will decide that they cannot bear the burden of being in charge of the medical care of others. Others will find the fortitude to grit their teeth and wear the badge of collapse "medic." These individuals may have some medical experience, but most will simply be fathers and mothers who understand that someone must be appointed to handle things when there are no doctors. If this reality first becomes apparent when a loved one becomes deathly ill, the likelihood that you will have the training and supplies needed to be an effective medical provider will be close to zero.
This volume is meant to educate and prepare those who want to ensure the health of their loves ones. If you can absorb the information here, you will be better equipped to handle 90% of the emergencies that you will see in a power-down scenario.
All the information contained in this book is meant for use in a post-apocalyptic setting, when modern medicine no longer exists. If your leg is broken in five places, it stands to reason that you'll do better in an orthopedic hospital ward than if I make a splint out of two sticks and strips of my T-shirt. The strategies discussed here are not the most effective means of taking care of certain medical problems. They adhere to the philosophy that something is better than nothing; in a survival situation, this "something" might just get you through the storm.
Hopefully, societal destabilization will never happen; if not, this book will still have its uses. Natural catastrophes will tax even the most advanced medical delivery systems. Medical personnel will be unlikely to be readily available to help you if they are dealing with mass casualty events. Even a few days without access to health care may be fatal in an emergency. The information provided here will be valuable while you are waiting for help to arrive.
An important caveat: In most locales, the practice of medicine or dentistry without a license is against the law, and none of the recommendations in this book will protect you from liability if you implement them where there is a functioning government and legal system. Consider obtaining formal medical education if you want to become a healthcare provider in a pre-collapse society. All it takes is your time, energy and motivation.
Although you will not be a physician after reading this volume, you will certainly be more of a medical asset to your family, group, or community than you were before. You will have:
Learned to think about what to do when today's technology is no longer at your fingertips.
Considered preventative medicine and sanitation.
Looked at your environment to see what plants might have medicine value.
Put together a medical kit which, along with standard equipment, includes traditional medications and natural remedies.
Most importantly, you will have become medically prepared to face the very uncertain future; and after all, isn't that what you wanted accomplish when you first picked up this book?
---
SHTFplan Editor's Note: This article has been generously contributed by Dr. Joseph Alton (aka Dr. Bones) and Nurse Amy Alton (aka Nurse Amy). It appears in the Preface of The Doom and Bloom Survival Medicine Handbook.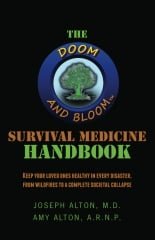 For those looking for a realistic overview of the medical emergencies and disaster scenarios we may face in a post-collapse world and how to keep your loved ones healthy and safe in the midst of crisis, the Altons' Survival Medicine Handbook is an absolute must have for your preparedness library. (Our family has one on the shelf and one in our evac bag)
You can also follow their regularly updated and very informative Doom and Bloom Web Site for topics covering a host of post-collapse emergency concerns and key medical issues you may run into. 
In a situation where seconds count and medical help is hours or days away, there will be only one place to turn: yourself. We will all, undoubtedly, be faced with life threatening scenarios when law, order and our regular way of life breaks down. Some of those will include traumatic injuries to family members or friends – everything from gun shot wounds to viral infections.
The buck will stop with you.
---
Also See:
The Doom and Bloom Hour – Weekly internet radio show discussing medical issues and emergency scenarios.
Doom and Bloom Medical Supplies – Prepackaged emergency kits, supplies and training information.
What to Expect When You're Expecting…a Collapse [by Dr. Bones and Nurse Amy]