The mainstream media is doing its job and doing it well. They've got everyone distracted with geopolitical tensions day after day, even on days when nothing has actually changed. Meanwhile, central bank money-printing and inflation are deteriorating the value of your life savings, to the point where there may be nothing left soon.
This is why informed investors must take action now or regret it later. The Federal Reserve's fantasy of a 2% annual U.S. inflation rate is so far back in the rearview mirror that it may never be seen again.
In 2022, the "gold standard" of inflation hedges is, as always, gold itself. Miners are being called upon to step up to the plate and deliver record amounts of gold as smart-money investors – including the central banks themselves! – shore up their gold holdings.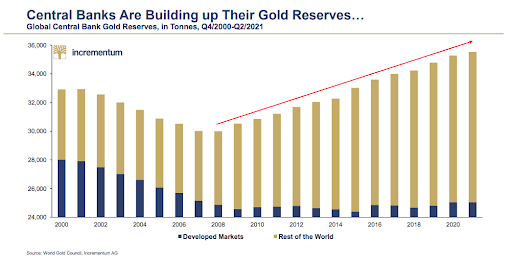 Courtesy: Incrementum AG
Are you really going to invest in the opposite direction of the bankers themselves; the ones that set the policy and move the money? Or, are you going to base your financial decisions on mainstream-media hit pieces?
Of course, we're siding with the forces that move the markets, and for 2022, we're specifically recommending Goldplay Mining (TSX-V: AUC, US-OTCQB: AUCCF), a Canadian junior exploration company focused on exploring and advancing gold, silver, and copper assets.
The company's crown jewel, the Scottie West Project, is located among some impressive neighbors, including Pretium's Brucejack Mine, as well as the past-producing Granduc and Silbak Premier Mines.
We like the Scottie West Project because of its prime location and the data we've seen so far. Not long ago, Goldplay Mining released highly encouraging results from the company's 2021 field program completed on the Scottie West Project.
Among other results, Goldplay reported findings of up to 5.9 grams per metric ton of gold and 155 grams per metric ton of silver on the SE Exposure Nunatak. Check back frequently because there's more data coming, and stay focused even while the media tries to keep you in the dark.