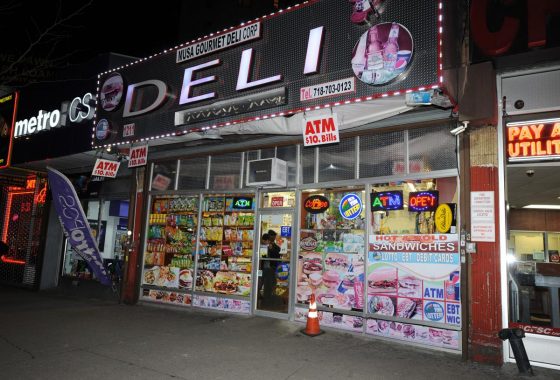 A 32-year-old liberal white woman was attacked and robbed by two Hispanic teens who accused the woman of being a Trump supporter while pelting her with groceries at a Bronx area deli Wednesday night.
Amazingly, the woman is not actually a Trump supporter and was apparently attacked as one simply because she was white. Keep in mind that the left has specifically blamed white people for Trump's election victory so one can imagine that the teens were simply carrying out an attack they thought was for the "greater good."
The New York Daily News reported:
The victim, her roommate told the Daily News, is most definitely not a Trump fan.

But the suspects, possibly teens, saw her differently.

"You stupid white c—," they yelled at the victim inside the Musa Gourmet Deli on Jerome Ave. near E. 167th St. in Highbridge about 3 a.m. Dec 2.
In the new America, teens feel so emboldened by the anti-Trump talk that they now apparently believe that they can attack anyone they believe supports the president with no repercussions.
Additionally, these anti-Trump thugs also apparently believe that they can use the threat of violence to keep anyone that supports the president from even living in the Bronx itself.
"You think you can live here in the Bronx, you Trump supporter? You white b—h!"

Her attackers started flinging store goods at her.

Zid Ali, 31, the deli manager, said when one of the suspects grabbed the woman's bag, which she had placed on the counter, "she said she was going to call the cops, so the other one took her phone."

"They ran out," he added, "and she ran after them."

But the suspects got away and are still being sought. The NYPD's Hate Crime Task Force is investigating the incident.
This attack is part of a larger problem where parts of the hard-left literally attack all white people for their perceived slights against the liberal orthodoxy.
Just yesterday I noted the fact that after Doug Jones stunning election victory, the hard-left went to work attacking white people as a whole simply because not all whites in Alabama voted for Jones.
"That's right, in the new America, the hard-left openly mocks and insults all white people simply because a certain percentage of them do not vote for liberal candidates," SHFTPlan reported.
"Keep in mind that BOTH candidates were white yet that did not stop the race baiting left from conducting a vile series of attacks on the white race while pretending that they are the civil rights heroes."