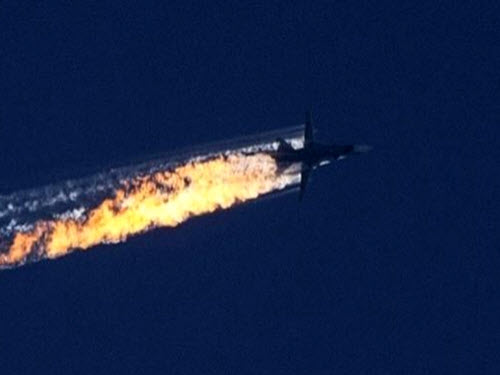 This article was written by Melissa Dykes and originally published at The Daily Sheeple.
Editor's Comment: The escalation to war is expected at this point, but quite unfortunate. Turkey is showing its hand in stirring the world to further conflict, and sponsoring terrorism, which it is using as a tool for regime demolition in Syria and the region. The United States and its forty thieves partners in the Middle East are bound and determined to use chaos to build order, and use war to push back imminent threats against the economy.
WWIII is how far away?
"War Is Likely" After Turkey Shoots Down Russian Jet, Ignores Putin's Warning
by Melissa Dykes
It seems like full-blown war is only two seconds away with the wicked brew boiling in the Middle East. The latest?
Turkey shot down a Russian warplane near the Turkish-Syrian border yesterday, claiming it did so after the plane violated Turkish airspace and was given ten warnings to leave which were ignored. Turkish President Recep Tayyip Erdogan said they decided to shoot it down because the plane "did not answer our warning".
Both pilots bailed out. Russian media later reported that one of the pilots was killed by fire ISIS shot at them from the ground. Turkmen forces in Syria said both pilots were shot dead as they parachuted from the plane.
The US Ambassador to Turkey then Tweeted "Understand this: Turkey is a country whose warnings should be taken seriously and listened to. Don't test Turkey's patience. Try to win its friendship."
Anlayın artık.Türkiye sözü de, uyarıları da dikkate alınması gereken bir ülkedir. Sabrını test etmeyin, dostluğunu kazanmaya çalışın.

— Serdar Kilic (@serdarkilic9) November 24, 2015
However, the other pilot did survive, and he said that no warnings were received from Turkey before the plane was hit.
In response, Putin shot back with some pretty harsh language, saying this was a "stab in the back" by the "terrorists' accomplices":
The shooting of the plane, Putin said, "represents a stab in the back by the terrorists' accomplices. I can't describe what has happened today in any other way. Our plane was downed over Syrian territory by an air-to-air missile from a Turkish F-16 jet.
"The plane fell on Syrian territory 4 kilometers (2.5 miles) away from the Turkish border. It was flying 1 kilometer away from the Turkish border when it was attacked. In any case, neither our pilots nor our jet posed any threat to Turkey. That is obvious. They were carrying out an operation fighting against ISIL in Northern Latakia." (ISIL is another acronym for ISIS.) (source)
Putin also said this would have "serious consequences for Russia's relationship with Turkey".
And, to sum it up, you know what Turkey said back?
"Warning ignored."
NATO then called an emergency meeting, as Obama, Hollande, and others publicly called for de-escalation.
Meanwhile, Russian Foreign Minister Sergey Lavrov called Turkey shooting down the plane "a planned provocation" and an "obvious ambush".
Analysts are already saying this could potentially lead to not only war, but nuclear war because Russia is being told they cannot fly near the Syrian-Turkish border where all the terrorists are hanging out.
Via the Daily Mail:
One of Moscow's most respected military analysts said war was 'most likely'. Pavel Felgenhauer said Turkey was seeking to protect an area in northern Syria controlled by its allies, the Turkmen. The analyst said Mr. Putin must either accept this zone 'or start a war with Turkey' which it could win only by going nuclear.