This report was originally published by Shepard Ambellas at Intellihub.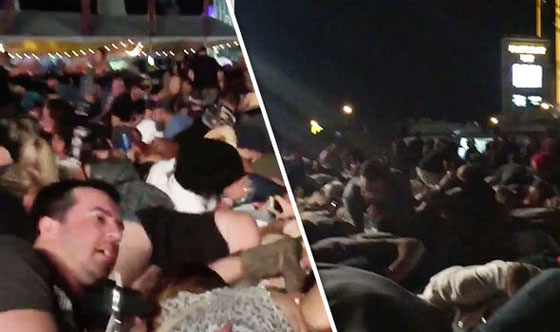 Note: This is an updated version of the article with correct calculations after further review. Please help spread!
A second shooter fires from an elevated position at 10:04 p.m., before Paddock fires his first fully-automatic volley, video appears to show
 (INTELLIHUB) — The purpose of this article is to open a real-time discussion and investigation into the very real possibility that a 'second shooter' may have been firing from an elevated position on the northeast corner of the rooftop of the Mandalay Bay Convention Center from behind a raised parapet short wall.
At 3:08-1/2 into the video you can see what appears to be a single flash coming from above and beyond the rooftop of the Desert Oasis Motel just to the left of the most eastward Ferris wheel support post. Then approx. 2.26 +/- seconds later (at nearly 3:11) the sound of the shot can be heard.
It's actually rather loud and appears to have caught the attention of a few people.
The shooter's vantage point
After doing an extensive analysis on the matter, I have determined that what looks/sounds like a muzzle flash/gunshot likely came from the northeast corner of the rooftop on the Mandalay Bay Convention Center which is 848 yards (2,545 ft.) away from where the videographer was located at the precise moment the shot is fired.
The following two images give an overview of the shooter's vantage point. This is what the shooter would have been able to see.
At a range of 848 yards (2,545 ft.), the sound from the shot would take 2.26 seconds (traveling at 1125 ft./sec.) to register in the videocamera's microphone, just as it does in the video. It's a match.
In the following image, the two Ferris wheel support poles can be seen in the background to the left and beyond the poles, the venue can be seen.
You can view the full three-hour timeline analysis by Shepard Ambellas here.
The entire Intellihub investigation into the Las Vegas Shooting can be found here.
#LasVegasShooting
#SecondShooter
Additional Sources:
Shepard Ambellas is an opinion journalist, analyst, and the founder and editor-in-chief of Intellihub News & Politics (Intellihub.com). Shepard is also known for producing Shade: The Motion Picture (2013) and appearing on Travel Channel's America Declassified (2013). Shepard is a regular contributor to Infowars. Read more from Shep's World. Follow Shep on Facebook. Subscribe to Shep's YouTube channel