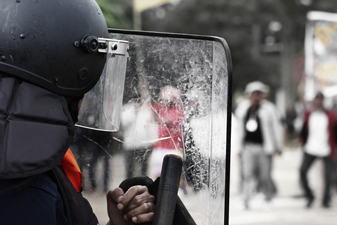 This article was written by Tyler Durden and originally published at Zero Hedge.
Editor's Comment: Organic or astro-turf, justified or not, there is something very ugly that is rising to the surface. A string of incidents has seemingly come out of nowhere, just as Hillary and Trump head to convention, and the people of this country become frustrated about the corruption of the system, and the farce that surrounds voting and elections.
Will chaos completely spill out into the cities of America, beyond any control? Or will this remain a series of sporadic and highly provocative headlines? Either way, everyone had better keep their eyes open, because the U.S. is headed into dangerous territory they have steered clear of for many years now.
Mass protest, civil disobedience, riots, indiscriminate killings on both sides and more can be expected, as major pressure is fueling a war of society. Can we really expect that this is all unconnected, or that it will simply die down?
4 Shot, 1 Killed After Black Gunman Fires At Passing Cars On Tennessee Highway, Targeting Police, Whites
by Tyler Durden
The worst case scenario we predicted yesterday, hours before the shocking events in Dallas had taken place, is now in play and the genie unleashed by the recent incidents of police violence – whether unprovoked or justified –  and popularized by an aggressive speech by none other than the president in which he collectivized the failings of the US police force as one organic whole, is now officially out of the bottle.
Recall we said that "we believe that the current wave of anti-police sentiment will sublimate into a surge in social violence across the US, especially among blacks who target police, and sadly culminate with deadly consequences for all involved." While it is not clear if Obama's speech yesterday was the spark that accelerated precisely this sentiment, but after yesterday's mass killing of police officers in Dallas and various incidents across the US today, we are convinced that what is on the surface a surge in class/race/occupation tensions between segments of the black community and segments of the police force (because it clearly does not involve everyone in the those two respective groups), is about to escalate into a full blown war.
Case in point, the latest incident in what increasingly more are calling an all out race war was reported moments ago by AP who said that 37-year-old Lakeem Keon Scott, who is black, opened fire indiscriminately at passing cars and police on a Tennessee highway. He later told investigators he was angry about police violence against African-Americans. One woman died and three others, including one police officer, were injured in the rampage.
Lakeem Keon Scott. (Facebook)
The Tennessee Bureau of Investigation said in a news release that initial conversations with the suspect, 37-year-old Lakeem Keon Scott, revealed he was "troubled by recent incidents involving African-Americans and law enforcement officers in other parts of the country."
As AP adds, Scott was wounded in the shootout with police, remains hospitalized and has not yet been charged. All those shot were white, police confirmed.
Scott was shot by police after opening fire about 2:20 a.m. Thursday on Volunteer Highway in Bristol, the Tennessee Bureau of Investigation said in a press release. Scott was seriously wounded, but was in stable condition Friday afternoon, police said.
The announcement came just hours after 12 officers were shot at a Black Lives Matter protest in Dallas by a man who police say declared he was angry about police shootings of black men and wanted to exterminate whites. Five of the officers died.
Lakeem Scott was armed with two weapons, an "automatic-style rifle" and a pistol, and had a large amount of ammunition during the Thursday morning incident, the Tennessee Bureau of Investigation said in a press release.
The shooting spree in Tennessee began around 2:20 a.m. Thursday. The Tennessee Bureau of Investigation alleges Scott — armed with an assault rifle, a pistol and a large amount of ammunition — fired shots through the window of the Days Inn on Volunteer Parkway.

Evidence is marked at a crime scene at O'Reilly Auto Parts connected to the
shooting on Volunteer Parkway early Thursday morning in Tennessee
The front desk clerk, Deborah Watts, was struck and injured. Days Inn owner Kiran Patel said he awoke to the sound of gunfire. His wife called the front desk to see what happened, Watts answered and said she'd been shot. She remains in the hospital in serious but stable condition.
Investigators said Scott then "indiscriminately fired at several vehicles driving on Volunteer Parkway."
He was confronted by officers from the Bristol Police Department. "During that exchange, the investigation shows Scott fired at the three responding officers," the TBI said. "After which the officers returned fire, striking Scott." He was taken to the Bristol Regional Medical Center, where he remained in serious, but stable, condition on Friday, police said.
Newspaper carrier Jennifer Rooney, a 44-year-old mother of two, was on her way to pick up papers for the morning delivery when a bullet struck her. The Bristol Herald-Courier reported that her car careened over a median and crashed through a chain link fence.
David Whitman Davis was also injured by flying glass from the gunfire, the TBI said.
Three officers with the Bristol Tennessee Police Department arrived and confronted Scott, who fired on them. Office Matthew Cousins was hit in the leg. He was treated for superficial injuries and released.
Scott was stuck by the officers returning fire. He remains in the hospital in serious but stable condition. The Tennessee Bureau of Investigation said the investigation is ongoing as they work to understand the shooter's motive.
Unfortunately, this is only the beginning.
This article was written by Tyler Durden and originally published at Zero Hedge.