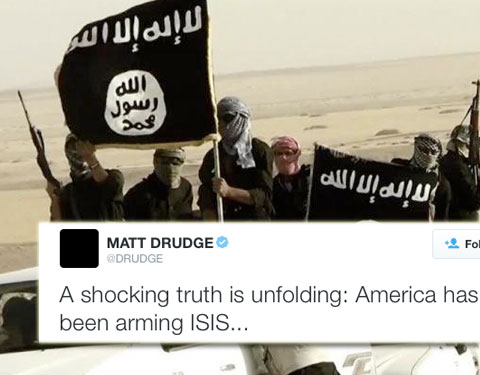 By all accounts, ISIS is clearly the biggest threat to the United States, with the San Bernardino attacks just the most recent to take out Americans.
And yet, the U.S. military and President Obama refuse to bomb known ISIS targets, including advanced propaganda and digital media houses, that they admit they have thoroughly mapped out – but refuse to strike.
According to the Washington Times:
In a secret project tied to the overall U.S. campaign against the Islamic State, intelligence officials have spent months mapping out known physical locations of media safe houses where the extremist group's operatives are compiling, editing and curating raw video and print materials into finished digital propaganda products for dissemination across the Internet.

Most of the locations are embedded in heavily residential areas in Syria, Iraq and Libya and are not being targeted by U.S. airstrikes because of Obama administration concerns about civilian casualties…
The sentiment seems mismatched, as the United States under presidents both Republican and Democrat have not balked at civilian casualties tolls, even when that figure approaches one million innocent lives. While the sentiment seems noble, it is not realistic, and is resulting in propping up the power of ISIS further.
Just a few weeks ago, WND reported on how U.S. airstrikes are so limited, that pilots can't even get clearance to take out a clear ISIS target:
President Obama has given U.S. military pilots an impossible task: Wage a successful air war against an enemy hiding among civilians – without killing a single civilian.

Pilots who have returned from deployments say Obama refuses to permit airstrikes 75 percent of the time against the Islamic State group.

"You went 12 full months while ISIS was on the march without the U.S. using that air power and now as the pilots come back to talk to us they say three-quarters of our ordnance we can't drop, we can't get clearance even when we have a clear target in front of us," Rep. Ed Royce, R-California, chair of the House Foreign Affairs Committee, told the Washington Free Beacon. "I don't understand this strategy at all because this is what has allowed ISIS the advantage and ability to recruit."
Instead, the American people are told to fear ISIS, but not to stop potentially dangerous or radical Islamists from entering the country; people are told that ISIS has changed everything, even as certain Western and Arab partners continue to fuel ISIS armies with weapons, cash and training.
The increasingly glossy and appealing propaganda produces by ISIS and disseminated around the world – allegedly recruiting more extremists to their cause – is perhaps too good to be true. Who is really helping ISIS to produce world-class media, and why aren't their facilities being shutdown?
But critics, including a growing number of lawmakers on Capitol Hill and some current and former officials directly involved in the project, say the administration's effort is badly mismanaged and underfunded, allowing the Islamic State to maintain a physical footprint of media production houses upon which creation of the terrorist group's most influential products depends

The propaganda operation's vastness and sophistication are considered unprecedented in Islamic terrorism… Twelve issues of the group's official propaganda magazine Dabiq are now online in several languages, including Arabic, English, Russian, French and Turkish. The shiny content, organizational integrity and layout are more thorough and professional than those of many American newsmagazines… [and] using elaborate graphic animations, special effects, live-action speed edits and Hollywood-quality voice-overs.

[…]

"Obviously, if we know where they're producing the propaganda, we should be doing everything we can to destroy their facilities," said William McCants, a Brookings Institution scholar and former State Department senior adviser for countering violent extremism.

[…]

[T]he source, who added that "bombing is absolutely not the only way to take a communications product offline."
Indeed, there is more than one way to undermine or destroy the communications and propaganda strongholds of ISIS, along with its military forces – and yet none of them are being pursued. Meanwhile, Americans are home are being killed by the monster our U.S. government created, raised, coddled and unleashed.
What about American lives that are at risk?
Unbelievable.
Things that make you go Hmm…