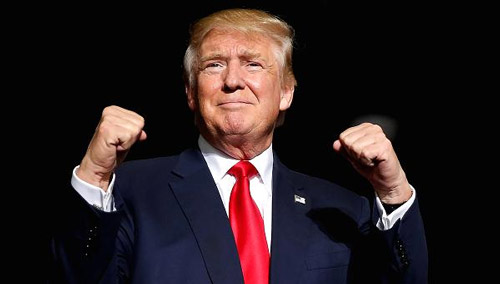 This article was written by Brandon Smith and published at his Alt-Market.com site.
Editor's Comment: Will Donald Trump be the president you expect him to be? Or is there a twist ending coming at the end of this election thriller?
Hillary was the most repugnant candidate possible for many voters, fed up with the system and outraged at the above-the-law corrupt behavior, and naturally she was heavily rejected by a massive portion of the country. Even those that supported the Clinton-heir apparent were hardly enthusiastic.
So, it is no wonder that Trump had such a dramatic rise, fueled by media controversy. But was everyone played? And will the next four years end up as an improvement on the past 8, or will it hand more power to the bankers yet again.
Trump Is Exactly Where The Elites Want Him
by Brandon Smith
Cognitive dissonance is a powerful drug. It makes otherwise-very-intelligent people goofy and incoherent in their thinking and blinds them to certain realities that they should normally see right in front of their noses. I witness it all the time in the field of economics — a key piece of logic, a key fact that certain people absolutely refuse to take into account simply because they have a singular idea of how the world works and they cannot allow that idea to ever come into question. They would rather leap into a mental gymnastics routine worthy of an Olympic gold medal than examine the truth. And if you confront them on it, they'll accuse YOU of being the one in denial.
This is how we ended up with the credit crisis and market crash of 2008/2009. This is how very few people saw the writing on the wall with Syria and ISIS and the fact that the funding and training of Islamic extremists by Western governments for the purpose of proxy insurgency might not be such a great concept. It is the reason why it took years for the mainstream to acknowledge the advent of the East/West paradigm, the same paradigm that alternative analysts warned about years in advance. This is why most mainstream AND alternative analysts completely discounted a successful Brexit referendum.  And, it is why the vast majority of pundits could not even conceive of a Trump victory in 2016.  I could write a list 20 pages long on all the geopolitical and fiscal developments most people missed because they were clinging to assumptions rather than evidence.
Unfortunately, the liberty movement is also sometimes vulnerable to such assumptions. The most dangerous of which revolve around the rise of President-elect Donald Trump.
I have seen endless theories over the past several months on all the ways in which the global elites would sabotage the Trump campaign. I believe the phrase "they will never allow him to win" was repeated in nearly every discussion on the election. The assumption in this instance was that Trump is "anti-establishment" and, therefore, a threat to the globalists. These are the same globalists that people also claimed would "rig the election," or initiate a "coup" in the electoral college to stop a Trump presidency.
Of course, this never happened. So, a large percentage of the movement needs to question — why didn't it happen? How did Trump win within a system we know has been rigged for decades?
You'll hear hundreds of theories and rationalizations on Trump's miraculous victory, but a reason you will almost never hear is also the most likely one: Trump won the election because he serves the interests of the establishment. Trump won because he is a fake.
This is not an idea that many liberty activists want to entertain. They were so repulsed by the proposition of Hillary Clinton taking the helm at the White House that they would have invested themselves in almost ANYONE running against her, even if they thought that candidate might be controlled opposition. However, not just anyone was fielded as a candidate; Trump was fielded, and for good reason.  I predicted before the Republican and Democratic primaries that the final election would be between Trump and Clinton in my article Will A Trump Presidency Really Change Anything For The Better?, published in March, and here is a quote on why:
"The other ingenious aspect of the Trump campaign is really who he is running against — Hillary Clinton, a rabidly liberal candidate even more hated than Barack Obama. A candidate with a potentially serious criminal record and a penchant for an outright communistic world view far beyond that of Bernie Sanders. Those of us who have been in the writing field for a long time and have dabbled in fiction know that in order to create a fantastic hero, you must first put even more work into creating a fantastic villain. The hero is nothing without the villain.
The unmitigated horror inherent in the prospect of a Hillary Clinton presidency is like adding jet fuel to the Trump campaign. (And yes, I am assuming according to the results of the primaries so far that the final election will be between Trump and Clinton)."
My point back then as well as now is that without Clinton as the counter-party, Trump would not have garnered the political following he did.  Any other Democratic candidate would not have galvanized conservatives so fervently. As I continued in my pre-primaries article:
"Donald Trump appears to be the perfect antithesis to Hillary Clinton. … the real question is, is Trump a reflection of the frustration and defiance of the conservative population, or, is he a clever ruse by the establishment to co-opt and placate the conservative population before we rebel?"
The staging of the 2016 election might have appeared to some people to be absolute chaos, but to me, it could not have been more perfectly scripted. In later articles covering the election I went on to give Trump a chance.  I stated that I had little doubt that he would win the election and that this would be followed by an economic crisis, probably triggered early in his first term.  Conservative movements would be set up as scapegoats for a crash the globalists had created. However, I believed it (marginally) possible that Trump was not aware of this strategy on the part of the elites. Today, I no longer hold this view.
The first and worst sign that Trump is not anywhere near "anti-establishment" has been his complete reversal of his original "drain the swamp" rhetoric. Trump is not only NOT draining the swamp that is the Washington D.C. and corporate elitist revolving door, he is adding even more creatures of varying ghoulishness.  As Newt Gingrich, who describes himself as an outside adviser to Trump, recently stated:
"I'm told he now just disclaims that…" [Draining the swamp] "He now says it was cute, but he doesn't want to use it anymore…"
There is a good reason why Trump no longer wants to use that particular slogan — his cabinet is now filled with the exact same elitists he used to slam along with the Washington establishment.
Trump first placed former Goldman Sachs partner Steven Mnuchin as Treasury Secretary. Goldman Sachs has a long history of insinuating its alumni into vital positions within government bodies dealing directly with the economy.  Mnuchin is particularly troubling because of his ties to George Soros; Mnuchin used to work directly for George Soros at Soros Fund Management up until 2004.
Then, for those people that thought maybe Mnuchin was just an anomaly, Trump added Gary Cohn, president of Goldman Sachs, as the director of the National Economic Council.
Trump's chief strategist and Breitbart executive Steve Bannon is also a former Goldman Sachs investment banker.
It is interesting to note that over a quarter of the gains in the delusional Dow Jones spike after Trump's election was tied to a rise in Goldman Sachs stock value.  Imagine that…
Trump is also now "advised" on economic matters by the likes of JP Morgan's Jamie Dimon. Are we starting to get the picture here?
If that is not enough, then how about the fact that Trump is being closely advised by long time globalist Henry Kissinger (just as Vladimir Putin is advised by Kissinger)?  I'm not sure why so many people are surprised by this arrangement; Trump was meeting with Kissinger months before the election. No matter the administration, there is ALWAYS a high level globalist behind the curtain.  Barack Obama had Zbigniew Brzezinski, and Trump and Putin have Kissinger.
I won't go into the numerous establishment Republicans that Trump has tapped for his administration, I will save that can of worms for another article, but anyone in the Liberty Movement that is not at least generally suspicious of Trump at this point is probably kidding themselves.  The bottom line is, Trump has already LIED to his political base.  He has surrounded himself with globalists and financial gatekeepers when he originally criticized Clinton for the same behavior.  At this point, as long as he working in close proximity with such parasites there is no way for us to know if he is calling the shots, or if his handlers are making decisions for him.
I have heard it argued that Trump "has no choices" outside of D.C. insiders, which is why his cabinet is loaded with bottom feeders from Goldman Sachs. I find this argument rather naive. I would argue that there are thousands of brilliant professionals and people far more trustworthy outside of the beltway that could populate Trump's cabinet and "make America great again."  I would even argue that ANY person with little experience inside the D.C. corruption chamber would be better suited to the job.
It seems to me that there are some activists that just can't let go of the notion that Trump was the candidate the elites wanted all along.  After all, didn't the powers-that-be do everything in their power to try and stop him from winning the election?
Well, not really.  The media firestorm surrounding Trump, though highly negative in tone, only boosted Trump's exposure throughout the election. In fact, Trump received more coverage from outlets like CNN than all the other candidates combined.
This was the exact opposite tactic that the elitist controlled media used against true liberty candidate Ron Paul in 2012. With Paul, the media went out of their way to ignore him; they even refused to show a single Ron Paul campaign sign in a crowd if they could avoid it. This was a concerted systematic effort on the part of left AND right wing media outlets to ensure that no one outside of the internet heard about Ron Paul.
So what happened with Trump? Why did the mainstream media abandon a strategy that was very effective against Ron Paul, and why did they give Trump endless free coverage?
The elites also did not take very stringent measures to disrupt Trump's candidacy early in the race. The Republican National Convention undertook a campaign of disinformation and rule changes in order to ensure that Ron Paul would have no chance of organizing an upset against establishment choice Mitt Romney. The same exact kind of treachery was used by the DNC in 2016 to sabotage Bernie Sanders — arguably a far more popular and effective candidate than Hillary Clinton. The party elites have numerous tools at their disposal to kill a candidate's chances before he or she ever makes it on the national stage, yet, we are supposed to believe that Trump just slipped through the cracks, or beat them at their own game?  I think not.
The election itself was riddled with email leaks and data dumps showcasing the corruption of the Clinton campaign, and yes, this did help to ensure a Trump win. The accusations of "Russian hacking" is clearly a sideshow, but the question remains, who did feed that information to Wikileaks? Some theorize that "disgruntled employees" within the U.S. intelligence apparatus may have leaked the data. I think they were not disgruntled. I think that most of the leaks were part of the election theater from the very beginning. In light of Trump's clear goal to entrench banking vampires within his administration, I think that the elites always intended for him to "win" the election.
Of course, for some in the liberty movement this claim is sacrilegious. They don't want to hear it, they'll hate me for saying it, and that's fine.  I started my work in 2006 during the Bush years, and I remember quite well what it was like.  I have little doubt that some people will be accusing me of being a "liberal" before they even finish this article, just as people called me a "Neo-Con" during the Obama administration.  People who held fast to "conspiracy theories" surrounding the election and how Clinton was the "chosen one" will now hypocritically call me a "conspiracy theorist" for pointing out that NO ONE gets into the White House without being vetted by the elites, even Trump.
Working in alternative media means not caring if people like you or dislike you. I've been able to make numerous correct predictions because I do not concern myself with the pressures of conforming to group-think. My only hope is that many in the movement realize sooner rather than later that their faith in Trump has been ill invested. The great danger is that the liberty movement, the best last chance for saving this nation, will sit on its collective hands idle, centralizing all their hopes and eggs into the Trump basket, waiting for him to gallop in on his white horse and save us all from oblivion. And when that time comes, I suspect that he will do nothing, and the movement will be neutralized by its own desperate desire for a hero and an idol.
This article was written by Brandon Smith and originally published at PersonalLiberty.com. Brandon's site is Alt-Market.com.