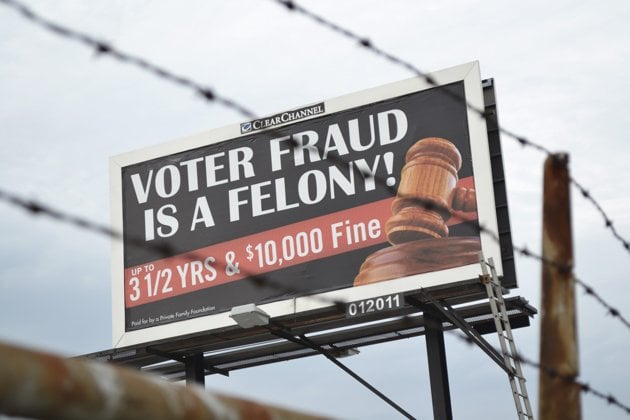 Many of us have suspected for years that American elections are a sham. Not only does it seem like nothing changes no matter how many times we vote the bums out, but sometimes the votes themselves don't seem to add up. Especially now that we have electronic voting machines, which don't provide a whole lot of accountability and are notoriously easy to hack.
Fortunately, you can still tell when the votes don't make sense, even with electronic voting machines. In states like Kansas, where in some counties they use electronic voting machines that also record the votes on paper tapes, there seems to be some blatant inconsistencies with the voting results from the past few elections.
Beth Clarkson, chief statistician for Wichita State's National Institute for Aviation Research, said last week that she noticed results for the last several elections in the state failed to add up. "If we're not being counted accurately, we're losing our right to vote without even being aware of it," she said at an event commemorating the 95th anniversary of the 19th amendment, which granted women the right to vote.

Clarkson has sued the state of Kansas for the power to examine the voter tapes, which record every stroke a voter casts on the machines. In Sedgwick County, for example, that amounts to 385 feet of tape stored in 42 boxes. Clarkson is eager to examine the records, claiming she noticed abnormalities in the numbers.

"I don't understand why those patterns are there, the patterns are very definitely real. But we don't know what's causing them or why they're there. They do fit what would be expected if election fraud is occurring, and that's very concerning."

"This is not just an anomaly that occurred in one place," Clarkson said in April. "It is a pattern that has occurred repeatedly in elections across the United States." She says the pattern routinely favors traditional Republicans — even over Tea Party candidates..
Well isn't that a big surprise? What's also not surprising is how the authorities in Kansas are reacting to her claims. After Clarkson sued the state of Kansas to view the tapes, State Secretary Kris Kobach asked the judge to block her case. I guess there's nothing to see here folks.
Nope. There's nothing suspicious about a Republican official trying to prevent a statistician from investigating a case of voter fraud that if true, may have been committed by Republicans. It's also not a hypocritical action for someone who was elected on a platform focused on preventing voter fraud, and who introduced legislation that would prevent illegal aliens from voting. I guess if voter fraud helps the Democrats you must change the rules, but if it helps Republicans you can just brush it under the rug.
The only question that remains is, are the Democrats doing the same thing in the states where they dominate the elections? It wouldn't surprise me at all if they're hacking the machines to suppress non-mainstream candidates from their own party. Either way, at least we have another phony election to look forward to next year. Once the results come in on November 8th, we'll know exactly who the most corrupt politicians are.