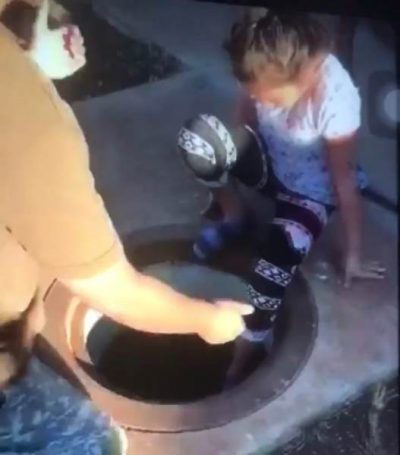 A false emergency alert in Hawaii that warned the populace to seek immediate shelter due to an incoming ballistic missile not only left people crying and screaming in the streets, it also caused concerned parents to attempt to hide their children in storm drains.
While citizens who were on Twitter were informed that the alert was false within ten minutes, it took upwards of 38 minutes for government officials to officially correct said false alarm with a second text message.
NBC News reports:
California resident Elizabeth Fong is in Hawaii looking to buy a house and received the alert. She said she didn't receive a correction alert stating it was a false alarm until 8:46 a.m., 39 minutes after the initial alert.

The aftermath of the false alert was "crazy," she told NBC Bay Area, and prompted people to run around on the streets "crying and screaming," wondering what to do.

"I prayed to God and asked for forgiveness of my sins and for Him to protect us," she said, adding that people are still shaken up.

Andy Thammavongsa, who tweeted a screenshot of his phone that showed the time between each alert, lives in Ewa Beach and told NBC in a Twitter message, "Everyone was panicking, the whole island was awake and alert."

He added that "there's nothing really you can do honestly" if the alert were real, saying there's "nowhere to take shelter, the island is only so big."
NBC Philadelphia anchor Vai Sikahema was actually in Hawaii at the time and fully believed that both he and his wife were about to be killed.
NBC Philadelphia's anchor Vai Sikahema recalled his reaction to the alert to MSNBC. Sikahema said he texted his children, after none of his four college-age children picked up the phone, letting them know he and their mom were in Hawaii. He then told them where they could find a will as well as their insurance information. 

Sikahema said his wife told him: "Hey, if this is it, I guess this is no better place to go then here in Hawaii and the two of us being together."
Shockingly, people in the state took the warning so seriously that they were actually placing their children in storm drains in a desperate attempt to protect them.
Brah @Hawaii_EMA you got fams out here putting their kids in the storm drains… Thanks a lot? pic.twitter.com/jxtxETf62M

— Nalü (@NaluRivera) January 13, 2018
Clearly some heads are going to roll after this epic mistake. One can only wonder how the American people are supposed to believe that this all happened because someone simply pushed the wrong button?!