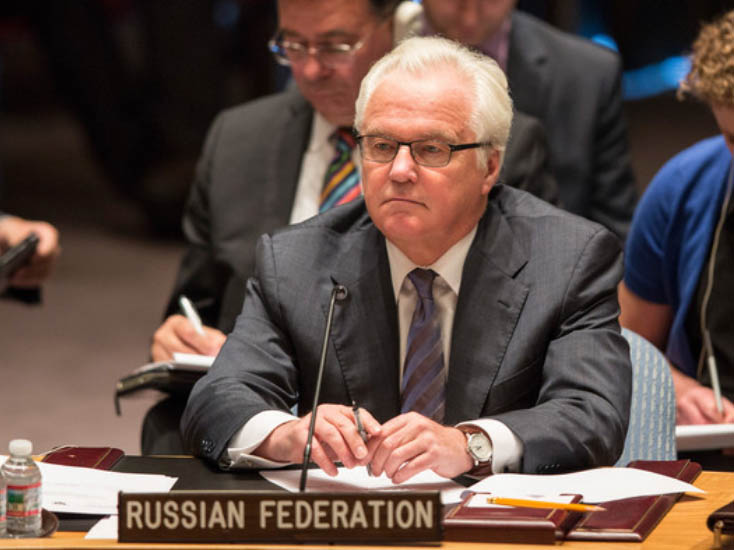 In a world where nothing is coincidence…
Yet another Russian diplomat has died unexpectedly at a time when tensions between East and West are great, and when there is a great deal of subterfuge going on behind the scenes.
Few could forget the shocking video of Andrei Karlov, Russia's ambassador to Turkey, being shot at an art gallery podium in Turkey by a man who was supposed to be on his security detail. Russian and Turkish leaders both suggested that it was an attempt to undermine cooperation and potential peace agreements over Syria.
Only hours after that event took place in December, a second Russian diplomat, Petr Polshikov, was reportedly found dead from a gun shot wound in his Moscow apartment. No further details have emerged, but a great deal of speculation was fueled as to what was really going on.
Now, Russia's ambassador to the United Nations, Vitaly Churkin, has "unexpectedly" dropped dead – one day before his 65th birthday from an apparent heart attack, though an autopsy and further determination of the cause of death could be forthcoming.
According to Reuters:
Russia's combative ambassador to the United Nations, Vitaly Churkin, died suddenly in New York on Monday after being taken ill at work, the Russian Foreign Ministry said.

The ministry gave no details on the circumstances of his death but offered condolences to his relatives and said the diplomat had died one day before his 65th birthday.

It declined to comment on reports that Churkin had been taken to a hospital shortly before his death.

A U.S. government official, who was not authorized to speak publicly on the case, said that Churkin had died of an apparent heart attack.

A federal law enforcement official, also speaking on condition of anonymity, said that there appeared to be nothing unusual about the ambassador's death.

[…]"Ambassador Churkin remained at his work post until the last minute. He devoted his whole life to defending the interests of Russia and was to be found on the very front lines and in the most stressful posts."
Meanwhile, the U.S. Coast Guard has been tracking a Russian spy ship that is trawling off the East Coast – and quite near to an American submarine base in Connecticut and to the borders of United States territorial waters in general.
Surely, there is no reason for concern there… because it's 'not a direct threat.'
According to the Courant.com:
The military tracked a Russian spy ship moving up the East Coast to within 30 miles of the Naval Submarine Base in Groton Wednesday and some political figures called the maneuver another aggressive action by Russian President Vladimir Putin.

"At this point there's not a violation of international waters. Unless that happens you aren't going to see any aggressive pushback, but it's something that has us on high alert," U.S. Rep. Joe Courtney, D-2nd District, told The Courant.

Two retired Navy submarine commanders downplayed the Russian presence, saying the ship presents little threat to U.S. security. Such Russian intelligence ships routinely patrol areas outside U.S. naval bases and track U.S. and allied forces' naval exercises.

[..]

"The U.S. Coast Guard is aware of a Russian Federation-flagged vessel transiting international waters off the East Coast of the United States, as we are of all vessels approaching the U.S. The ship has not entered U.S. territorial waters, which extend 12 miles out to sea," the Coast Guard said in a statement. "We respect freedom of navigation exercised by all nations beyond the territorial sea of a coastal state consistent with international law. The Coast Guard continues to coordinate with federal agency partners to monitor maritime contacts operating in the vicinity of U.S. shores."
Curiously, there have been other assassinations taking place as well.
While the mainstream media and deep state figureheads have been busy assassinating President Trump's character, covert operations have been taking place around the world.
The half brother of North Korean dictator Kim Jong Un – said to be at odds with the premiere – was just assassinated in a Malayasian airport in a bizarre series of events that involved two women apparently putting a cloth around his face and/or spraying some sort of aerosol on the exiled potential heir.
As SHTF reported, the two women told police they thought they were taking part in a viral prank video – and may well have been unwitting of their role in his death. Either way, the unconventional hit was capture on CCTV video for all the world to see.
This isn't just about North Korea, though. Clearly, "they" can get to anybody, anytime, by whatever means they please:
While it has been presumed that Kim Jong Nam, the half brother of the dictator, was killed by North Korea, given their long history of cutthroat politics and petty reasons for assassinating dissenters among their ranks, there may well be more to the story.
Big things are in the works. China is reportedly cutting off billions of dollars of coal that it sells to North Korea, which will put tremendous pressure on the regime. Meanwhile, the new regime in the U.S. could eye the Hermit Kingdom as a new, easy enemy to rally around – particularly given that North Korea was listed as a member of the so-called "Axis of Evil" back during the last Bush Administration.
Who, exactly, is chasing whose tail?
That much remains a mystery.
Are Russian diplomats dropping like flies because the CIA or other covert agency are targeting them – as one ex-CIA official blatantly called for on television – or could someone within Putin's Administration be culling internal opponents to some agenda? Perhaps there are other motives, as well. Or perhaps, it is just another individual taken by the toll of stress and overwork.
Is Churkin's death just another part of life, or is it more writing on the wall that things are anything but normal in the current state of affairs?
Read more:
Uncensored RAW VIDEO: Russian Ambassador Shot Dead In Turkey
Thwarted Peace? Assassination of Russian Ambassador "A False Flag Operation By the West"
Update: "Putin's Favorite Chauffer" Killed In Accident… Exactly As Former CIA Director Described On TV
Creepy and Bizarre: Pranksters Set-Up to Assassinate Kim Jong Un's Half Brother with "Aerosol Spray"