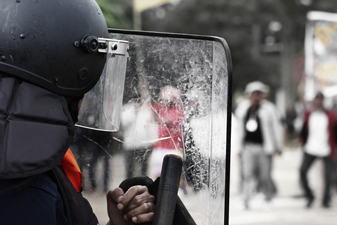 Growing dissatisfaction with Hillary Clinton as the Democratic nominee is fueling potential riots and disruptions during the Democratic National Convention in late July where the former Secretary of State will be officially nominated.
Former Bernie Sanders supporters and those who oppose many of her positions are planning to surround what promises to be a lively convention, with planned sit-ins and what could easily become clashes with police and security.
The entire area will be on lock down, and the atmosphere will be tense. Will there be dramatic displays of opposition against Hillary's presidency?
Gary Franchi of Next News Network warns about the presence of several highly mobile major protest movements, noting a recent report from USA Today:
According to USA Today:
A leader of the Black Lives Matter movement warns that activists are prepared to protest the platform at the Democratic National Convention in Philadelphia next month, citing the congressional sit-in on the House floor last week over gun control as a possible model.

"There are two things that I'm mindful of: One is that I've not seen a draft or a final version of the platform from the Democratic convention committee, and I think that will have a big bearing on how people mobilize," DeRay Mckesson told Capital Download. "The second is that Congress just sat in, so it'll be interesting to see how the DNC responds to people in protest, given that congressmen literally just sat in and they seemed to validate that."

His comments signal that Republican Donald Trump isn't the only candidate who has to worry about disruptions and demands from within the party at its national convention.
Whatever the form of protest, you can bet it was planned not only to address specific issues, like those from Black Lives Matter, but to froth up the general chaos at the convention event. This season is ripe with dissatisfaction, and there is need within the system to blow off steam.
With people pissed off at every level, it comes as no surprise that there will be attempts to jam the process from both within the system, and externally from the crowds outside.
The only question is how far things will go, and what will be done to restore order and keep the crowds at bay.
Certainly, the police and additional personnel they've hired are prepared with riot gear and non-lethal weapons to disperse crowds, as well as any new tactics they've brought to the game for this cycle's festivities.
Will there be a show of force, and what does it mean about the state of our nation?
Read more:
Martial Law at Republican Convention? Riot Cops "Preparing For A Siege Rather Than Political Event"
Democrats Fear Violence At Convention: "Don't Want To Go Back To '68 Riots"
Authorities Fear Civil Unrest, Buy Up Gear To "Arrest, Disperse, Control Riots"
Study Finds "Presence of Professional Protesters to Incite More Violence" in Baltimore and Ferguson