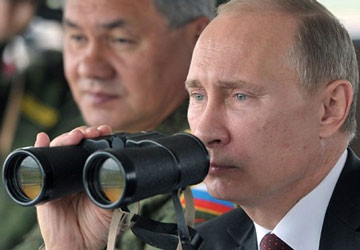 This article was written by Paul Joseph Watson and originally published at Infowars.com.
Editor's Comment: The potential for WWIII remains quite high. The agenda for long term control of the middle east has obviously been strong enough to keep wars rolling in the region for several decades now. And there is no indication that ending – and all the players have been coming to the surface.
It is entirely clear that the civil war in Syria, and the parallel rise of ISIS in Syria and Iraq, is anything but a local problem, and has much more to do with the global chessboard and the dangerous moves to endgame. Will Syria prove to be the lynchpin of global chaos and full-scale world war?
Report: Putin Threatens Turkey With Tactical Nukes
by Paul Joseph Watson
Award-winning Iran-Contra journalist Robert Parry has been told by a source close to Vladimir Putin that Russia has threatened Turkey with the use of tactical nuclear weapons if it launches a joint invasion of Syria with Saudi Arabia.
Writing for Consortium News, Parry warns that the risk of the United States and its allies escalating the conflict in Syria to rescue rebels who are now on the verge of defeat could spark "World War III".
"If Turkey (with hundreds of thousands of troops massed near the Syrian border) and Saudi Arabia (with its sophisticated air force) follow through on threats and intervene militarily to save their rebel clients, who include Al Qaeda's Nusra Front, from a powerful Russian-backed Syrian government offensive, then Russia will have to decide what to do to protect its 20,000 or so military personnel inside Syria," writes Parry.

"A source close to Russian President Vladimir Putin told me that the Russians have warned Turkish President Recep Tayyip Erdogan that Moscow is prepared to use tactical nuclear weapons if necessary to save their troops in the face of a Turkish-Saudi onslaught. Since Turkey is a member of NATO, any such conflict could quickly escalate into a full-scale nuclear confrontation."
Parry's background suggests the information should be treated seriously. He covered the Iran-Contra scandal for the Associated Press and Newsweek and was later given a George Polk award for his work on intelligence matters.
According to Parry, although President Obama has "sought to calm Erdogan down and made clear that the U.S. military would not join the invasion," he has been "unwilling to flatly prohibit such an intervention".
Moscow's alleged threat to repel a Turkish invasion of Syria with nuclear weapons follows comments by Russian Prime Minister Dmitry Medvedev in which he warned of a new world war if the United States and its allies send ground troops into Syria.
Turkey and Saudi Arabia have both signaled they are considering a ground invasion of Syria in order to aid refugees and so-called "moderate rebels" fighting against the Assad regime.
Last week, Turkish officials called for a "safe zone" to be established within Syria to allow refugees to flee Russia's advance, although the United States argued that such a corridor could not be set up without a no fly zone.
Saudi Arabia is currently conducting the biggest wargames the region has seen for a quarter of a century. Northern Thunder involves 150,000 troops from 20 countries and is viewed by some as a precursor to a possible invasion of Syria.
Earlier this month, Saudi Foreign Minister Adel al-Jubeir told CNN that President Bashar al-Assad will have to be removed "by force" if the political process fails.
Despite official denials that the kingdom possesses nuclear weapons, Saudi political analyst told RT's Arabic network last week that the Saudis have indeed obtained the bomb and that tests will be conducted soon.