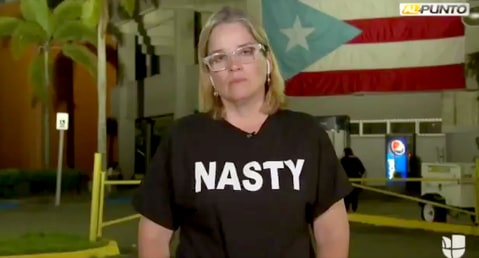 The mayor of San Juan, Puerto Rico, who became infamous for bashing president Donald Trump's response to Hurricane Maria's devastation is facing an FBI corruption probe. Mayor Carmen Yulin Cruz and her administration are under fire for allegedly obstructing critical supplies from reaching victims of the category-4 hurricane that leveled much of the island nearly nine months ago.
Cruz has been facing a growing backlash from frustrated residents who say they feel forgotten and say the mayor's personal political ambitions are coming at the expense of the very people she's supposed to be representing.  "She comes out, goes on television and pats herself on the back," said Simon Menendez, a  small business owner in San Juan.
At a time when residents needed food, water, and shelter, Cruz hired extra photographers to follow her around post-storm. "It stopped being about us a long time ago," Menendez added.
According to Fox News, the FBI reportedly launched the investigation following a February lawsuit filed by Yadira Molina, the former director of procurement. Molina claims she was retaliated against for reporting "alleged irregular acts" to the local comptroller. She says she was blocked from her right "to report wrongdoing in her capacity as a private citizen, not as a public employee."
"On February 21, Molina sued the city council after reporting alleged acts of corruption in the shopping division in the town hall under the administration of Mayor Carmen Yulin Cruz Soto," according to El Vocero de Puerto Rico.
Shortly after Cruz became mayor, Molina claims a supply company was granted "preferred supplier" status which paid them more than three times what regular suppliers made. She also alleges that other city officials engaged in a corrupt scheme to steer business the preferred supplier's way.
Multiple attempts to reach Cruz by Fox News were unsuccessful. FBI spokesman Carlos Osorio told Fox News that "FBI San Juan neither confirms nor denies the existence of investigations."
Cruz's distaste for Donald Trump over recovery efforts have turned her into a liberal star and it's a role she seems to be relishing rather than doing her job. Her global close-up has morphed into a parade of self-promotion.