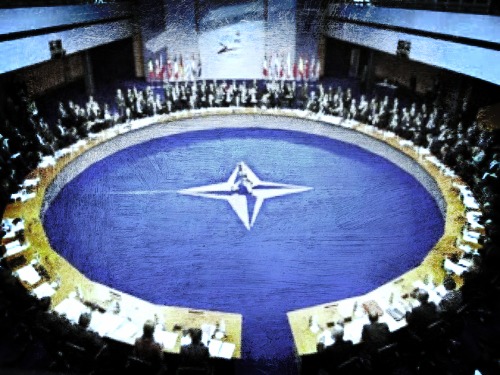 This article was originally published at The Daily Sheeple
by the Daily Sheeple
The biggest military exercise NATO has held in 13 years, "Trident Juncture" will end tomorrow.
DW.com claims that, even though 36,000 soldiers from various NATO countries including the U.S. have participated in the exercise to defend against "Russia's military ambitions," (or what other outlets are simply referring to as "Russian aggression"), the organization is actually at a big disadvantage against Russia, not only because its trying to coordinate 28 member states with different priorities, but Russia's training events in the last two years have involved up to 80,000 soldiers, more than twice that of NATO.
A big show happened just yesterday:
Wednesday's choreographed battle lasted less than one hour and paraded a range of assets from several nations: tanks, armored troop carriers, Apache attack helicopters, Chinooks, artillery, infantry, a special operations incursion and, at the end, an F-18 flyover. A narrator described a scripted set of circumstances at the fictional village of "Casas Altas" over a speaker system. Elements, identified by contributing nations, executed their maneuvers as artillery, rifle blanks sounded off and smoke gradually spread for thousands of feet around the besieged village.

After the battle, the audience was bussed down the hill near the fake village with minimalist, yellow concrete buildings and walls. There, they watched about 500 U.S. paratroopers from the 82nd Airborne Division and 23 Spanish paratroopers jump into a nearby drop zone.
And by "big show," NATO literally meant big show:
The spectacle may have been for show, but that's the point, according to NATO leadership: to indicate to potential aggressors that NATO can react with a coordinated, versatile, strong and rapid force.
Interviewing an "experienced NATO diplomat – who would like to maintain anonymity" (isn't that how it always is?), DW reported:
However, the current situation cannot be compared to the arms race during the Cold War, in which two equal powers constantly tried to outdo each other.

At the moment, Russia advances and NATO tries to respond. "Russia is more determined at the moment and more flexible and cohesive. That's something we certainly have to address," says the NATO diplomat.

The cohesiveness does not surprise anyone, as Putin's military does not require complicated agreement or legitimization procedures.
The exercise included cyber warfare, such as propaganda, and the use of online trolls to spread disinfo:
"We will have to think hard about how to deter in modern times," [says the NATO diplomat]

By "modern times" he means hybrid warfare and cyber warfare, like paralyzing the Internet, letting conflicts simmer without admitting to involvement, influencing public opinion by using Internet trolls, and being swift and flexible. That is what Russia does and more. Yet not everything about "Trident Juncture" is bad, claims Paul Ivan. Even though the exercise was designed and decided on before the events in eastern Ukraine unfolded, NATO was still able to integrate elements of modern warfare into the training.
This article was originally published at The Daily Sheeple