It seems that President-elect Donald Trump is back to business as usual, doing what he does best.
No wonder things are off to such a tumultuous start. I'm sure there'll be much more where this came from.
H/t Thanks to our commenter FTW for the great meme:
President-Elect Trump Publicly Grabs Pussy at the White House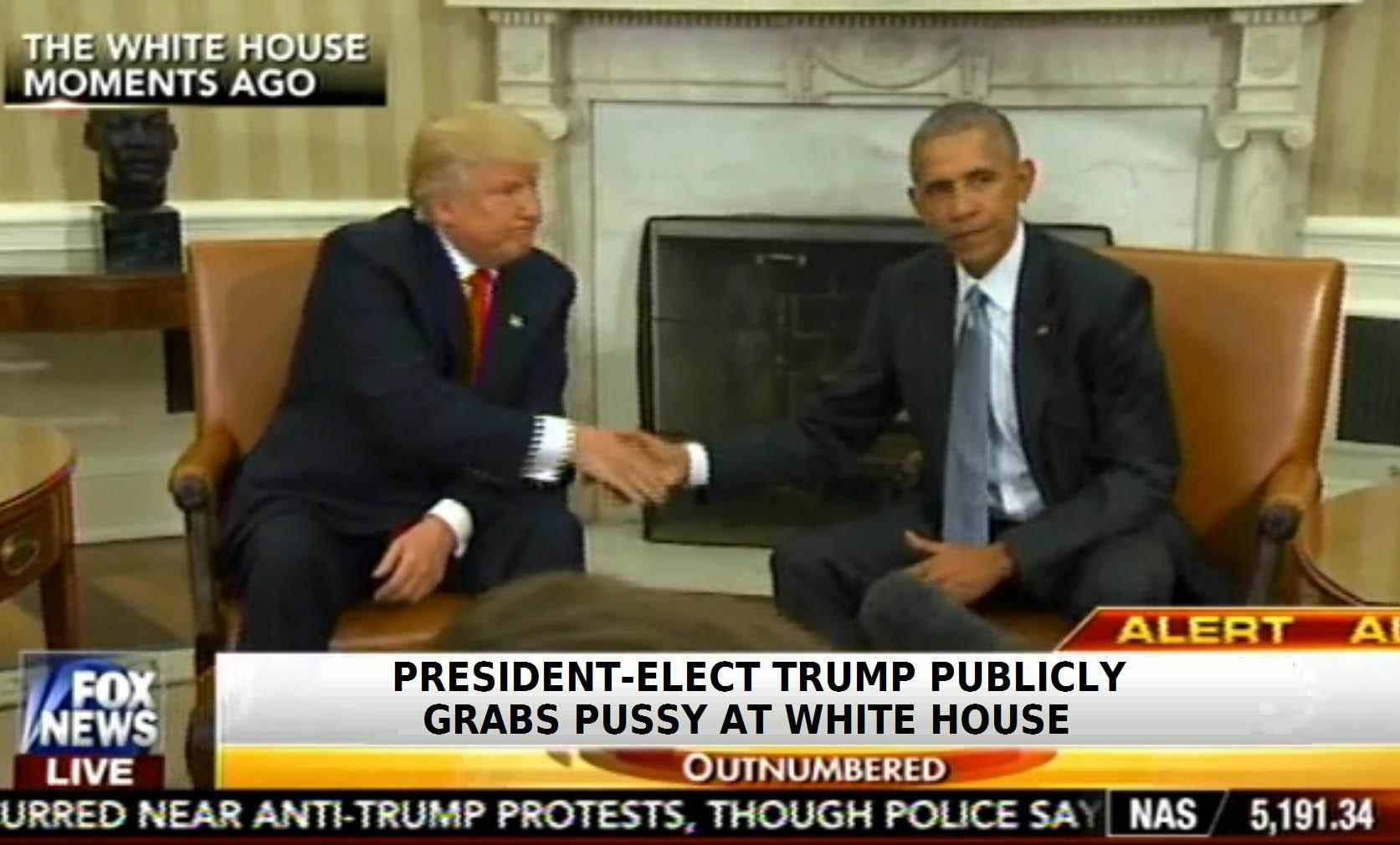 On a more serious note, it certainly seems that they've become fast friends.
Despite a lot of campaign rhetoric on both sides of this coin, it seems that President Obama and President-elect Trump are willing and ready to work together in the great transition. It's par for the course, as Obama, in turn got pretty cozy with the Bushes on his way in the door as well.
Will "draining the swamp" be possible if Trump plays nice with the outgoing establishment and his campaign rivals?
That remains to be seen, but Paul Craig Roberts issued a stark warning to pay careful attention to the advisors and appointments that Trump chooses in the next few months, because these little known individuals will determine who really runs his administration, and much of what kind of presidency it will be.
Let's hope Trump exercises great wisdom, because there will be a lot of pressure on him to accept plenty of deeply-entrenched political operatives working inside the deep state (and irrespective of political parties).
Read more:
Can Trump Deliver What Obama Didn't? "People Wanted Major Change In 2008… They Still Want It"
Bizarre Obama Meltdown As Speech Dissolves Into Stuttering: "President's Programming Breaking Down"
Flashback: The White House Just DISQUALIFIED Donald Trump From Being President (Seriously)
Trump Accuses Fed of Not Raising Rates Because Obama "Doesn't Want a Bubble Burst" Until He Leaves
EPIC RANT: Fed Up American Explains Why Trump Will Win: "Somebody With Balls"
Urged by Obama, Illegal Immigrants Line Up to Vote Against Trump: "Donald Trump Never!"