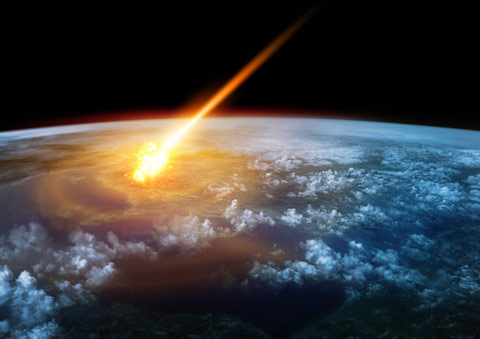 This article was written by Daisy Luther and originally published at DaisyLuther.com.
Editor's Comment: The threat of impact has gained more focus recently, as if we are all expecting something major and earth changing to happen sometime soon. Who knows what will come, but it is best to be prepared for anything… If a sufficiently large space rock destroyed a major metro or city, the disaster could be bigger than anything we have imagined.

One thing is clear, nobody should wait around for the authoritative word of NASA, FEMA, the governor or the president. There is no doubt that being prepared at the individual level is the most important factor in being ready for this, or any other cataclysmic event.
Speaking of Giant Meteor 2016, NASA Missed the One That Hit Earth Yesterday
by Daisy Luther
Folks frustrated with the American election have been decorating their vehicles with the sentiment, "Giant Meteor 2016: Just End It Already."  Well, they almost got their wish, and NASA missed the whole darned thing.
NASA, tasked with protecting us from incoming threats from space, failed to spot a meteor that slammed into the ocean off the coast of Australia yesterday (Sept. 16). Police received hundreds of calls as people watched a fireball move across the sky above the Gladstone area of Queensland.
People also called emergency services reporting an earthquake, but Geoscience Australia said no quake occurred at the time. The assumption is that is was the impact of the meteor landing. Storm chasers reported that the impact occurred some distance offshore near Turkey Beach.
Interestingly there is little in the mainstream media mentioning the meteor. This is rather surprising since it's not something that happens every day. It seems that they are so focused is the world on war, strife, financial meltdown, and the elections that they seem to forget that the natural world can throw us a curveball with no warning whatsoever.
The light was seen as far south as Hervey Bay and as far north as Yepoon with a tremor being felt upon impact over the general Gladstone area and Boyne Island."

Eyewitnesses described the phenomenon as a "ball of flame falling from the sky" and a "brilliant meteor flash overhead and disappear over the sea."

One man said he felt the explosion, which shook his house and reported seeing a very bright light, according to a report by the Mirror.

Sitting in his car, another spotted the strange object in the sky. "It looked like a shooting star and lit up the beach, then about a minute later there was a big band and a shock wave came over the water and shook my car a little bit," he said. "It was a pretty awesome experience."

Lanky Jones told the Courier Mail that the light was exceedingly bright. "It sounded a lot like a sonic boom, which would make sense if something was travelling too fast into the atmosphere," he said.

"I don't know what it was, whether a meteorite or piece of space junk, I didn't feel the tremor but the sound suggests something came down to earth. It's definitely not something you see every day."

The largest meteorite crater discovered on Earth to date was found in Australia. It is believed that a giant asteroid hit the planet around 300 million years ago.

"Large impacts like these may have had a far more significant role in the Earth's evolution than previously thought," Dr. Andrew Glikson of the Australian National University's School of Archaeology and Anthropology told Australian Geographic. (source)
Thankfully, it landed in the ocean.
This incident does show us that we are never fully informed about the hazards that space can throw at us and when something comes hurtling from the sky there's little you can except hope that you are far enough from its flight path to avoid injury.
This article was written by Daisy Luther and originally published at DaisyLuther.com.