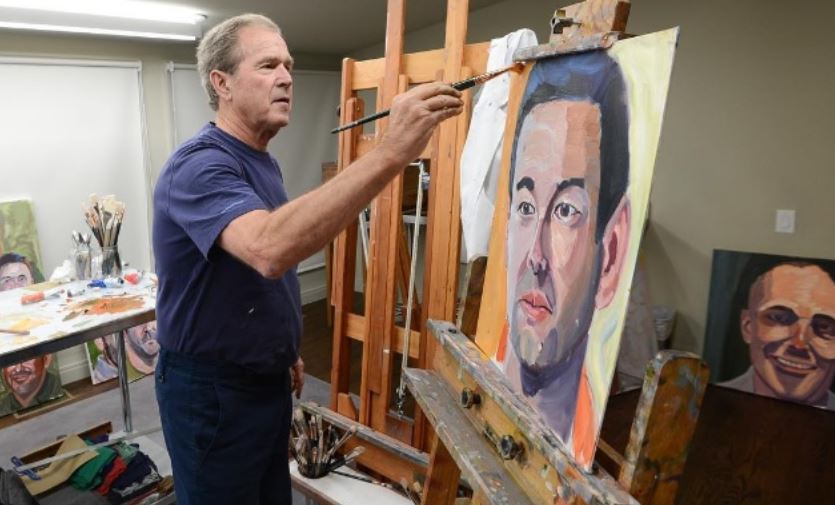 This article was written by John Vibes and originally published at Activist Post.com.
Editor's Comment: On the surface, there are good intentions here. The Bushes, like other patriotic establishment figures, always honor the troops, and count the sacrifices. Typically, they are stoic and praiseworthy of everything the military does. But underneath the surface, one has to wonder what is really going on inside the disturbed mind of George W. Bush – whose orders for an illegal war in Iraq, and a broader War on Terror in Afghanistan and elsewhere resulted in the deaths of thousands of U.S. troops, tens of thousands of wounded or injured and potentially more than a million civilians dead.
Does he feel remorse? Guilt? Has he admitted to his personal responsibility for what happened to their lives? Or do his paintings reveal a morbid sense of power over the lives of men and women whom he can only reflect upon and humanize after the fact? Considering that the Iraq war was based upon a provable lie – or false intelligence if you prefer to lie to yourself – something seems very off about honoring victims who wouldn't have been harmed if Bush himself hadn't authorized the actions that took place under his watch.
George W. Bush Paints Portraits Of The Veterans Who Were "Injured Carrying Out My Orders"
by John Vibes
This Veterans Day, former president George W. Bush revealed one of his favorite hobbies and talents, painting portraits. However, there was an extremely disturbing twist.
This week, Bush posted a photo to his official Instagram account, showing himself in an art room painting portraits of the veterans who were injured carrying out his orders. He was even brazen enough to describe the situation in those exact words.
In the caption below the photo, Bush said,
Over the past several months, I've painted the portraits of 98 wounded warriors I've gotten to know – remarkable men and women who were injured carrying out my orders. I think about them on #VeteransDay and every day. Their paintings and stories will be featured in PORTRAITS OF COURAGE – a book and special exhibit – next spring, and I am donating all my proceeds to @thebushcenter and our Military Service Initiative's work to honor and support them. Click link in bio for more info.
Is this a slap in the face to the veterans who Bush sent to be injured and die in senseless wars, or does he actually have remorse for the part he played in the conflicts?
The portraits will also be featured in a book that will be released by the former president and will tell the stories of the veterans depicted in the paintings.
For some reason, despite the fact that Bush said he painted 98 veterans, the official "portraits of courage" series consists of a total of 66 images, according to the website.
66 is a bit of a strange number for them to select, don't you think?
The paintings in the book will be the subject of a special exhibit at the George W. Bush Presidential Center in Dallas on the campus of SMU that will be open to the public from March 2, 2017 through October 1, 2017.
This article was written by John Vibes and originally published at Activist Post.com.
John Vibes is an author and researcher who organizes a number of large events including the Free Your Mind Conference. He also has a publishing company where he offers a censorship free platform for both fiction and non-fiction writers. You can contact him and stay connected to his work at his Facebook page. John is currently battling cancer naturally, without any chemo or radiation, and will be working to help others through his experience, if you wish to contribute to his treatments please donate.