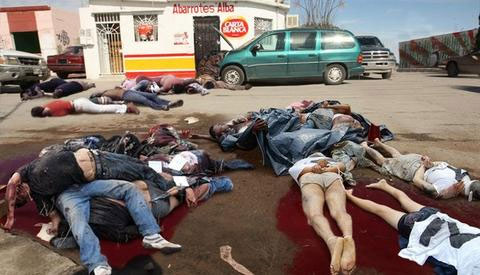 There will be war in the streets, or at least there could be.
The strong armed tactics against Mexico are not making officials happy south of the border.
Now, with an executive order facilitating the deportation of illegal immigrants – and especially those who have committed criminal offenses – as well as building a wall on the border, President Trump has many Mexicans up in arms.
Jorge Castañeda Gutman, former Secretary of Foreign Affairs in Mexico, took things a step further during an interview on CNN with Fareed Zakaria when he suggested that Mexico's previous cooperation with the U.S. in curbing the flow of drugs and illegal immigrants could end.
Instead, the cartels could be essentially unleashed upon the U.S. – retribution for tough policies on Mexico and other immigrant-producing countries in the Latin American world.
These astonishing words could open up an economic gang war against the U.S. –  very irresponsible words that reveal just how connected Mexico's leadership is with the violent drug cartels who operate from their territories:
Mexico has a lot of negotiating chips in this matter, Fareed, but it also has measures we could take in other areas. For example, the drugs that come through Mexico from South America, or the drugs that are produced here in Mexico all go to the United States. This is not our problem. We have been cooperating with the United States for many years on these issues because they've asked us to and because we have a friendly, trustful relationship. If that relationship disappears, the reasons for cooperation also disappear.
The implications are astoundingly clear – Mexico would consider exporting chaos and violence into the United States as a form of payback for immigration restrictions and controls against the instability that the southern border has brought to the country for decades.
@TheLastRefuge2 Jorge Castañeda Gutman suggests flooding the U.S. with drugs produced in Mexico and South America. pic.twitter.com/xbHZEzX4BY

— TransitionTracker (@DaveNYviii) January 29, 2017
Out of bitterness or desperation, or a mix of both, Mexico's finest would apparently weaponize their most brutal elements and deliberately send them North to sow chaos – only proving the reasons for controlling the border and reigning in the deterioration of the U.S. standard of living that has been going on for such a long time now.
Though no one would win, things could get pretty ugly…
Drug cartels and Mexican gangs have killed an estimated 40,000 people over the past decade in Mexico alone, as well as plenty of people on the U.S. side as well. Beheadings, etc. have gripped headlines and terrified the population.
The collusion of the Mexican government has worsened the problem, and the largest issues continue to explode. Why exactly shouldn't President Trump attempt to stop this insane violence and deadly trafficking?
Here's the full interview:
Trump's moves against immigration, et al. have the other side in a tail spin – and now it may be war of one kind or another.
Clearly, they will play dirty.
The U.S. has a 60 billion dollar trade deficit with Mexico. It has been a one-sided deal from the beginning of NAFTA with massive numbers…

— Donald J. Trump (@realDonaldTrump) January 26, 2017
of jobs and companies lost. If Mexico is unwilling to pay for the badly needed wall, then it would be better to cancel the upcoming meeting.

— Donald J. Trump (@realDonaldTrump) January 26, 2017
Read more:
Mass Deportations Loom: 7 Ways To Get Kicked Out Of America If You Are Here Illegally
"And Just Like That NAFTA May Be Over" – Mexico Cancels White House Meeting Following Trump's "Wall Ultimatum"
LEAKED: Read The Full Draft Of Trump Executive Order Restricting Muslim Entry Into USA: Total Ban On Syrian Refugees, Biometric Tracking Systems, More…