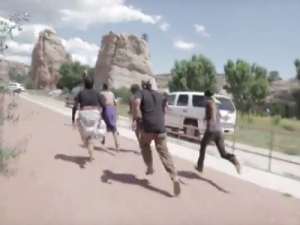 This article was written by Joshua Krause and originally published at The Daily Sheeple.
On August 14th, John McCain had the opportunity to visit the Navajo Reservation, to honor the code talkers of World War Two. However, his visit would quickly turn sour as he was confronted by dozens of Apaches and Navajos, protesting his role in passing a last minute provision to the National Defense Authorization Act of 2015, as well as changes to their tribal water rights. The Southeast Arizona Land Exchange Bill would allow mining interests to build the largest North American copper mine on the Oak Flat campgrounds, an area of spiritual and historical significance to the Apache people.
While meeting with Navajo officials at the Navajo Nation Museum in Window Rock, Arizona, he was confronted by 17 year-old Adriano Tsinigine during a photo shoot. The teenager held a card which read "Protect Oak Flat." The Senator's smile quickly disappeared as he pushed the card back to Adriano and told him to leave.
Shortly after the confrontation, McCain made his exit from building, where he was followed, and essentially chased by Navajo and Apache protesters.
The Senator's office has since denied claims that they were "chased off" of the reservation, and issued a statement which reads "Senator McCain was honored to be invited by the Navajo Nation to meet with tribal and community leaders and to speak at the celebration of the Navajo Code Talkers on Friday. It was a great visit and he received a very warm reception from the Navajo community in Window Rock."
– – – – – –
Contributed by Joshua Krause of The Daily Sheeple.
Joshua Krause is a reporter, writer and researcher at The Daily Sheeple. He was born and raised in the Bay Area and is a freelance writer and author. You can follow Joshua's reports at Facebook or on his personal Twitter. Joshua's website is Strange Danger .