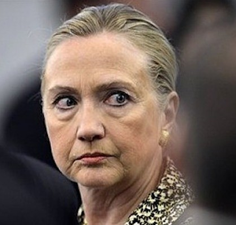 This article was written by Michael Krieger and generously contributed from his Liberty Blitzkrieg website.
Editor's Comment: There's just no getting over what a farce it all is.
Even though Americans will be hearing about little else than the heated race for the presidency and the upcoming November election, there is really little reason to buy into the charade. No doubt Trump in particular has energized this election cycle like no other by playing a dual role as both villain and hero.
Hillary Clinton, meanwhile, plays villain to all but a few mindless and naive supporters who vote based on such superficial categories as gender, race and the graft of socialism. The Democratic Party, under the control of Debbie Wasserman Schultz, has so thoroughly rigged the primary as to exclude and intimidate all would be competitors to Hillary, save a tired, old, grumpy socialist who has entered a race that is unwinnable because the "victor" was decided in the minds of the insiders long ago, and because the delegate and party rules have skewed any chance of a Hillary upset. Did anyone ever question why Biden refused to enter the race, or why the Republicans managed to have 17 contenders, and the Democrats only 3?
Watch Schultz struggle to explain the super-delegate system as a way of keeping candidates from being challenged by grassroots voters:
Will voters question why the independent streak in Arizona was altogether kept from casting a vote, and the whole charade in that state's voting process, as well as numerous other primary states has been a total joke? Bernie has garnered just enough support to remind Americans – regardless of their political leanings – how little choice they have in their leaders. Conversely, Republican voters are being reminded that the party can and will challenge their pick if indeed it ends up being a person like Trump, who is not locked into the self-serving mechanism of the political party machine.
American Democracy – Allegations of Voter Suppression Emerge from the Arizona Primary
by Michael Krieger
The following is extremely disturbing. If I were a Bernie Sanders supporter in Arizona, I'd be absolutely apoplectic.
AZCentral reports:
By a combination of misjudgment, misplaced priorities and old-fashioned voter suppression, Tuesday's primary was a disaster.

As reported by The Arizona Republic's Mary Jo Pitzl, Maricopa County reduced the number of polling places from more than the 200 available for the 2012 presidential election to … 60.

Sixty? Are you kidding me.

The fact that a voter could go to any polling place didn't matter much when the lines were so long that many people were forced to abandon the line.

I've heard from a number of those who stood outside and waited, and waited, and waited.

And if that isn't bad enough, Arizona law already effectively disenfranchises 36 percent of registered voters.

These would be voters who are unaffiliated with any political party. Independent. The only way those individuals can vote in a presidential primary is to re-register with a political party. And they have to do so 29 days before the election.

It's ridiculous to think that 36 percent of Arizona voters — can't vote.

They represent a constituency that is larger than the state's Democrats.

They represent a constituency that is larger than the state's Republicans.

It should be more and more clear to everyone that Arizona needs to institute an open primary system. Otherwise a plurality of Arizona voters is, essentially, permanently disenfranchised.
That's bad enough, but it gets worse. After waiting in line for hours, some registered Democrats were then told they weren't registered as Democrats and therefore couldn't vote.
The Phoenix New Times reports:
Polling places in Maricopa County were swamped with enthusiastic voters today, spurring gripes and a possible election complaint over party identification problems.

The state Democratic Party sent an e-mail to constituents asking them to send their election-day stories for a complaint that would be submitted to the Arizona Secretary of State's Office. Enrique Gutierrez, Arizona Democratic Party spokesman, said some Democrats waited in long lines — then were told they weren't really Democrats when they tried to obtain a ballot.

"We've received complaints throughout the whole day of lifelong Democrats showing up to the polls and being told they are either independent or have no party affiliations," Gutierrez said. No official election complaint will be submitted — yet, he says. But the party will continue to gather information.

A message left for county Elections wasn't immediately returned.
The Washington Post also covered the story:
All day Tuesday, voters in Maricopa County reported waiting in lines that stretched around the block, sometimes for hours. County officials told local news the long lines were in part to blame on independent voters showing up without realizing they couldn't vote in Arizona's closed Democratic and Republican primaries. But at least one voter who contacted The Washington Post said she was turned away even though she's a registered Democrat and that election officials blamed a computer glitch that rendered many Democrats as independents in the eyes of the system.
Somehow I don't think this will encourage Bernie supporters to vote Hillary.
Any questions?
For related articles, see:
Rigged Democracy – Nearly 10% of Democratic Party Superdelegates are Lobbyists
DNC Head Threatens to Kick Michigan Mayor Out of Debate for Cheering Bernie Sanders
"Bernie or Bust" – Over 50,000 Sanders Supporters Pledge to Never Vote for Hillary
It's Not Just the GOP – The Democratic Party is Also Imploding
Why Hillary Clinton Cannot Beat Donald Trump
In Liberty,
Michael Krieger
This article was written by Michael Krieger and generously contributed from his Liberty Blitzkrieg website.