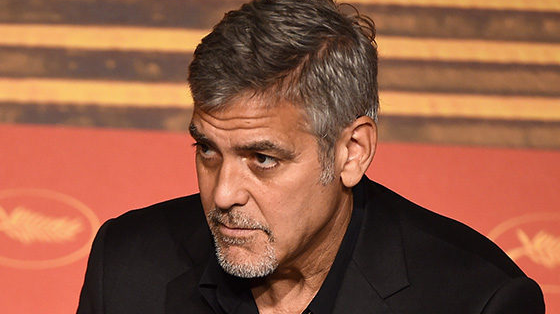 Since the moment that the Harvey Weinstein scandal broke open multiple other high-profile Hollywood players have been implicated in some sort of sexual crime, with new allegations coming out on a daily basis.
Now, the latest shocking example is none other than Hollywood and liberal icon George Clooney, who has been accused of helping to blacklist an actress who complained about racial and sexual harassment during her time on the television show ER.
Former ER actress Vanessa Marquez took to Twitter Thursday to respond to news reports that Clooney  was "speaking out" against Weinstein. Marquez had a decidedly different take on the situation.
B.S.Clooney helped blacklist me when I spoke up abt harassment on ER.'women who dont play the game lose career'I did https://t.co/ur466NCkII

— Ghoul Please ? (@vanessathought) October 10, 2017
The actress then went on to claim that Clooney is "not who he pretends to be" while also saying that multiple other companies and people within Hollywood were "complicit" in her blacklisting after she attempted to speak out over the harassment she received.
Yup.He's not who he pretends 2Be.Wells,NBC,Amblin,WB,cast&crew&my agents all complicit in my #Blacklist 4speaking UP in '95

— Ghoul Please ? (@vanessathought) October 12, 2017
Marquez finished up by saying that Clooney was a "monster in his own way" and that "everybody should know the truth about Clooney."
Following much speculation and outrage after Marquez's social media claims, Clooney was forced to issue a statement that denied that he had any role in blacklisting the young actress.
According to Page Six, Clooney's statement reads, "I had no idea Vanessa was blacklisted. I take her at her word," before adding that because he was only an actor he had no power to help blacklist her even if he had wanted too.
"I was not a writer or a producer or a director on that show. I had nothing to do with casting. I was an actor and only an actor. If she was told I was involved in any decision about her career then she was lied to. The fact that I couldn't affect her career is only surpassed by the fact that I wouldn't."
The accusations against Clooney come on the heels of a series of bombshell claims by actress Rose McGowan, including that Amazon and Washington Post owner Jeff Bezos "funds rapists, alleged pedos, and sexual harassers". Shockingly, her accusations against Bezos came just hours before it was revealed that a high ranking executive within Amazon Studios had been suspended over even more sexual harassment claims.
"Just hours after actress Rose McGowan destroyed Amazon and Washington Post owner Jeff Bezos in a series of highly publicized Tweets condemning the left-wing billionaires supposed support for rapists and other sexual deviants, his company was rocked with scandal once again after television producer Isa Hackett accused one the companies top executives of sexual misconduct," reported SHTFPlan.com.
"The head of Amazon Studios, Roy Price, was subsequently suspended from the company after Hackett's accusations and amid the fury over McGowan's claims that directly targeted one of the most powerful men in the country."
We are clearly witnessing a cascading avalanche of allegations against powerful men throughout Hollywood. One has to wonder which domino will fall next and if this could really be the end of the Democrat supporting Hollywood power base.